Many people from around the world are interested in applying for a Malaysian visa. Owning one would make it much easier for such people to live and work in Malaysia. This article provides much important information for those who plan to do. It will make it easier for them to obtain one.

Malaysia's growing economy, tax incentives, and government support for private cmpany incorporation have drawn many foreign investors to the company. Over the past decade, the country's economy has grown substantially. This makes Malaysia an ideal country for company incorporation, business activity, and outsourcing. 
Foreigners who want to start their  own business in Malaysia  or who are seeking employment and want to apply for a visa should know that there are five different types of work permits available. Each work permit has its own benefits and detriments and is suited for particular businesses, class of businesses, and investors. 
Paul Hype Page & Co offers foreign investors tailor-made visa and work permit assistance. Our interactions with the government, local offices, and businesses help investors select the right work permit for their business or employment needs, apply for a visa, and prepare and file relevant documentation on a timely basis. This saves both time and money. 
The following work permits are available in Malaysia:
2
–
Year
 Business Visa for Investors and 
T
heir Families
Under this scheme, investors can apply for a two-year business visa for themselves and their families by incorporating a Labuan international company. Such companies are 100% foreign–owned and have minimal paid-up capital requirements. Incorporating such a company does not require investors to apply for a WRT License. 
The corporate tax on net profits of a Labuan international company is 3% or RM20,000, whichever is lower. Visas take approximately 60 days to be endorsed and investors can apply for three or four positions to be filled by foreigners with work permits in the company. A registered office is also not required. 
Non-resident Company with 100% Private Holding (
Sdn
Bhd
)
This arrangement is ideal for foreign investors who wish to manage their own business in Malaysia. Setting up a private limited company (Sdn Bhd) allows business owners to obtain a two-year Malaysian work permit (DP10) without any technicalities or high costs. 
To apply for a two-year work permit, a minimum paid up capital of RM1 million is required for the company. In addition, a WRT License is also required. The duration of time taken from the incorporation of the company to the final endorsement on the passport typically ranges from six to nine months. This provides investors with adequate time to meet the minimum paid–up capital requirements. However, there are certain business activities which foreigners are not allowed to conduct. 
Joint Venture with a 
Malaysian
Foreigners can also opt to incorporate a Sdn Bhd Company with a local Malaysian. Under this arrangement, the minimum paid-up capital requirement is RM350,000. A WRT License is not required if the local Malaysian partner owns more than 50% of the shares of the company. 
Depending on the nature of the business, the Malaysian authorities may allow a two-year work permit for the newly incorporated company. The time taken by authorities in examining the documents until the final endorsement on the passport is two to three months. 
Employment Permit
Under this permit, employers and business owners can apply for a two-year work permit for as many foreigners as they wish to hire or employ for their organization. To qualify for immigration assistance, the employee must be on a normal contract with the company and the minimum monthly salary of the employee must be RM5,000 or more. 
The government imposes certain requirements pertaining to qualifications for a work visa or employment pass. For individuals applying for a skilled, specialist, or technical Position, a minimum of a bachelor's degree is required. The endorsement process takes one to two months. Upon successful evaluation, the employee and the employee's family are both awarded a two-year work permit. 
Representative or Regional Office
For companies operating for two years or more, Malaysia offers an opportunity to set up a representative office in the country. Such offices are prohibited from conducting any commercial transactions with Malaysian companies and are formed for the purpose of acting as coordinating centers, conducting surveys and findings, and exploring business opportunities. Setting up a regional office in Malaysia entitles investors to a three-year work permit; their families receive one as well. Processing takes two to three months.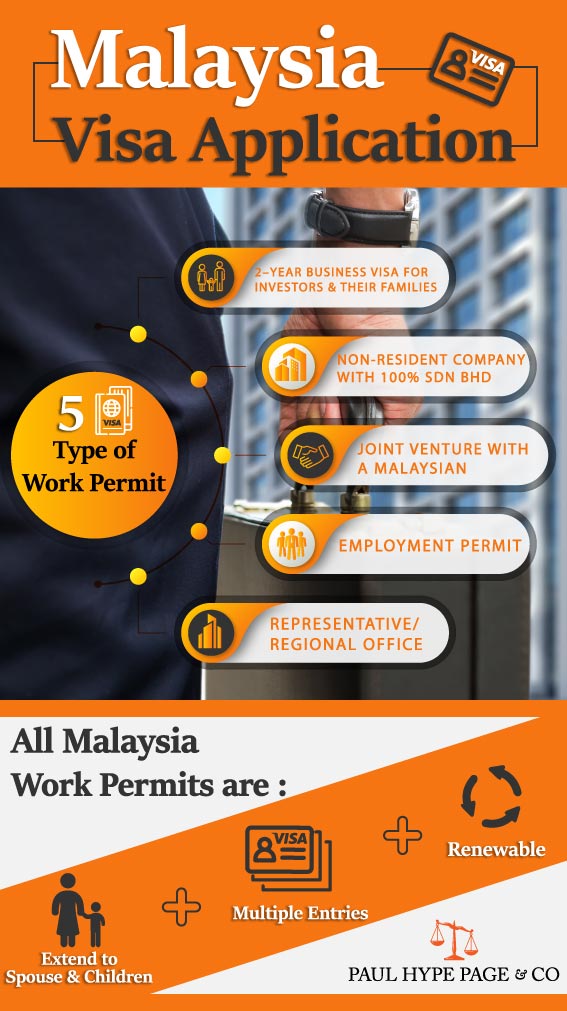 Work Permit Criteria in Malaysia
 For joint venture companies, a minimum of 30% foreign shareholding is required.

 

 According to Guidelines on Foreign Participation in the Distributive Trade Services Malaysia under the purview of the Ministry of Domestic Trade, Co-operatives

,

 and Consumerism, foreign involvement is restricted in sectors as per Annex E. Therefore

,

 applications for any long-term pass (more than 

three

 months) including

 the

 Employment Pass for companies in these sectors is 

not allowed

. 

The Information, Technology, and Communications (ICT) sector

 is only allowed to apply for 

Professional Visit Pass (PVP)

 

via 

ESD Online.

Applicants

 must comply with the ESD registration first before

 

applying for an

 EP. 

 

 If 

an

 

organi

z

ation is applying for

 a

 Professional Visit Pass (PVP)

, the company is 

nevertheless 

required to comply with the paid

–

up capital requirement for company registration.

 
All work permits offered by Malaysia have multiple entries, are renewable, and extend to the spouse and children (aged less than 21) of the applicant. Each work permit has its own merits and drawbacks and is suited for different investors and their requirements. To learn more about which work permit suits you best, feel free to contact us. 
How To Apply Malaysia Visa FAQs
Does a Labuan International Company Have to be based in Labuan?
Tiwi
2020-04-27T12:21:32+08:00
As is implied by its name, a Labuan international company must be based in Labuan. Any company based in any other part of Malaysia may not be classified as such a company. 
Can a person hold more than one of Malaysia's work permits at the same time?
Tiwi
2020-04-27T12:20:12+08:00
Each work permit has different criteria. Each work permit is also targeted at a different group of workers. Therefore, a person cannot hold more than one of Malaysia's work permits at the same time.
Can anyone of any nationality receive a visa in Malaysia?
Tiwi
2020-04-27T12:19:33+08:00
There are no restrictions on the identity of a visa holder in Malaysia. Anyone who fulfils the criteria as stated by the authorities may receive a visa.