Malaysia is a great location for expats to live and work. Foreign investors that have the intention to expand their business in Malaysia will find it much easier to send their senior team from their home country to manage the newly Malaysian registered Company via a work visa, such as the Employment Pass.
Malaysia has its own set of regulations and laws when it comes to the employment of foreign nationals. Hence, the Immigration Department of Malaysia has imposed that each employing Company must apply the right work visa in order to employ foreign expats. Once the foreign expat has attained his Malaysian work visa, only then the foreign expats are allowed to enter Malaysia and start working.
How to Work in Malaysia?
For foreign talents who wish to live and work in Malaysia, they are first required to attain a work visa. The Malaysian Expatriate Talent Service Centre (MYXpats Centre) is the department who are responsible to process and issue all Employment Pass (EP) related documents.
A Malaysian registered Company may only proceed with an Employment Pass application once it has registered and been approved by the Expatriate Services Division (ESD).
What are the Types of Visas in Malaysia?
Malaysia has three types of working visas. The type of visa you select when you apply for Malaysia work visas would depend on your job and skills involved. The types of visas issued in Malaysia for working professionals are:
Visa Type
Purpose
Employment Pass (EP)
For employees who have a specific skill set (usually technical or managerial). The minimum period for this pass is 2-years. EP Malaysia is available in Category I, II and III.
Temporary Employment Pass
For employees with a monthly salary of less than RM5,000. Also, applicable for employees with an employment period of less than 2-years.

Professional Visit Pass (PVP)

For employees with a monthly salary of less than RM 5,000. Also applicable for employees with an employment period of less than 2-years with a view of them undergoing training with a Malaysian company on behalf of an overseas company on a temporary basis.

Residence Pass-Talent (RP-T)

For expatriates with

monthly salary of RM15,000 excluding allowances or bonuses.

Th

e RP-T

can be renewed every 10 years is offered to expatriates with exceptional skills who wish to actively

partic

ipate

in bo

lstering Malaysia's economy over an extended period.
Employment Pass vs Professional Visit Pass (PVP)
Employment Pass visas allow a foreign expat to take up employment with a Malaysian registered Company. This visa will be subjected to the length of the employment contract the employing Company has offered.
The foreigner must hold either managerial or technical positions to be eligible for this visa. Employers will lodge the Employment Pass application on behalf of the foreign expat. EPs are valid for up to 60 months, and approval is issued by the Expatriate Committee (EC).  Other approval agencies include the Ministry of Home Affairs. Holders of this visa can bring their family members with them under the Dependant Pass visa.
On the flipside, the PVP is a work pass visa which allows expats to take up professional work in Malaysia. The visa is valid for a maximum of 12 months. To qualify for this visa, the foreigner must be residing outside Malaysia at the time of application.
Eligible positions for this type of visa include:
Professor
Lecturers
Speaker
Researcher
Consultants
Technical advisors
Maintenance installation and fixing experts (machines and equipment)
PVP holders are not entitled to bring their family members with them or apply for the Dependant Pass visa.
Professional Visit Pass (PVP) Prerequisites
All PVP applications must be made outside Malaysia unless the foreigner is applying for an extension. Applications must be submitted by either an employer, sponsor, or school in Malaysia.
If applications are lodged by the school, it should be made at least one month before the learning or teaching commences. Applications must be sent to the Federal Government Administrative Centre (Pusat Pentadbiran Kerajaan Persekutuan). Certain categories of the PVP shall be subject to consideration, and these categories include:
Other experts/volunteers

Filming and performance by foreign artists

Islamic missionary

Practitioners/Other religious workers

International students who are undergoing religious courses with the Malaysia bible seminary

Government to government program or on government purpose
The validity of the PVP will be subjected to the requirements and conditions of Malaysia's immigration rules and policies for a period which does not exceed 12 months. Any applications for a PVP which are made for the purpose of undergoing training at a factory or hotel is only applicable for a period not exceeding 6 months.
The employing Company must put in the application:
Passport copy (preferably certified by notary republic)
12 and IM.38 visa application form (can be found in the official website)
Letter of offer from Malaysian registered Company
Employing Company latest profile (business plan and Company profile – can be retrieve from Company Secretary)
Academic certificates
Letter of approval from Department of Religion and Islamic Religious Department (if required)
Bank guarantee (for China citizens)
Once approved, the foreign worker is able to apply the visa with reference (VDR) from Malaysia embassy (if needed). Once arrived in Malaysia, the foreign worker is to visit the Immigration Department of Malaysia to receive the professional visit pass sticker on their passport.
Employment Pass vs Temporary Employment Pass (TEP)
To be an eligible Employment Pass holder, a foreigner must be a degree (or above), diploma or technical certificate holder. They must also have the relevant work experience required for each qualification level.
The categories for Employment pass are as follows: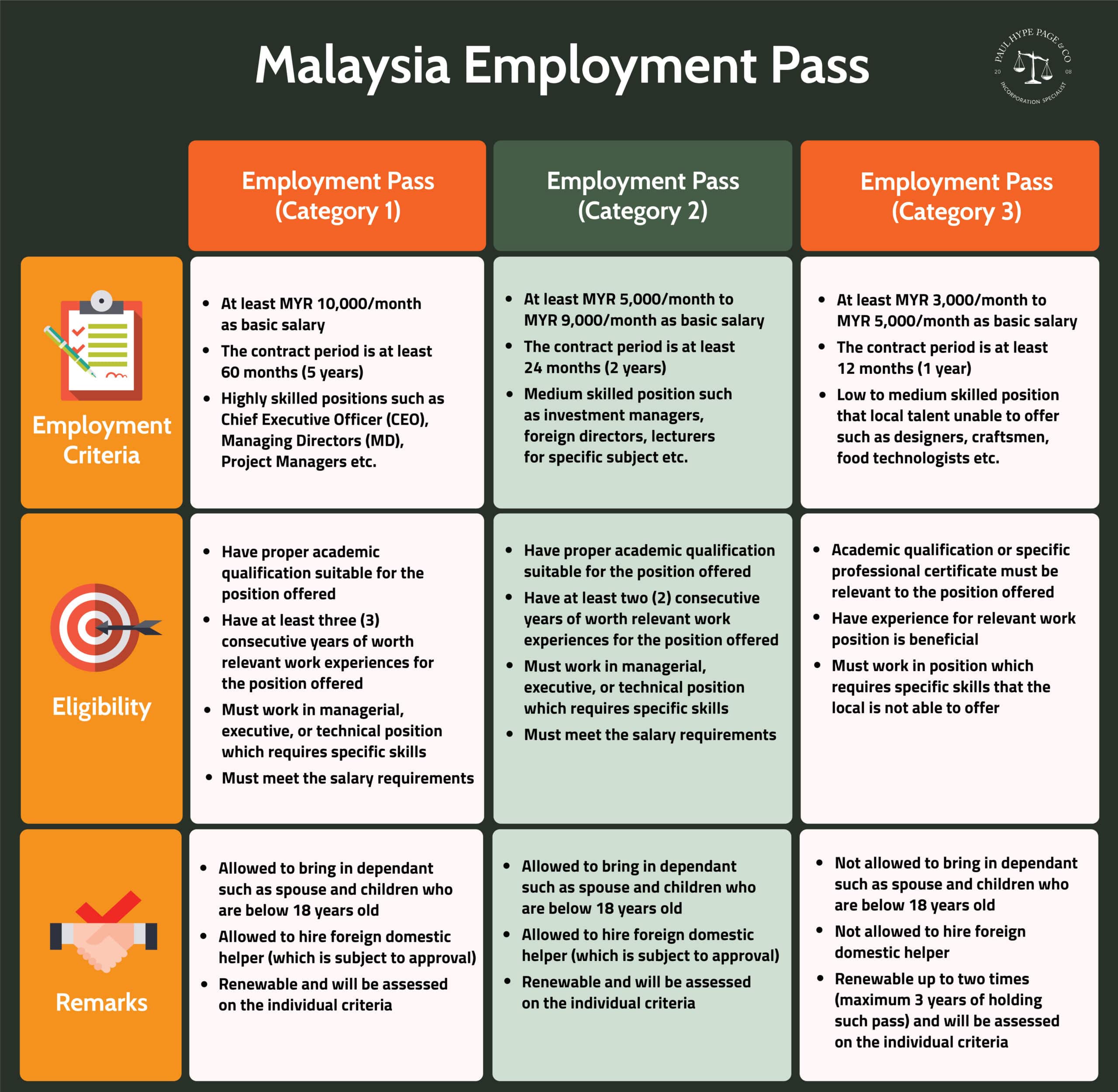 A TEP will enable semi-skilled and unskilled foreign workers to work in Malaysia. Occupational roles include agriculture, manufacturing, mining, service sectors and construction. TEP's are valid for up to 3-years.
However, they are subjected to yearly extensions. This would depend on the availability of the specified occupation. TEP's can only be issued after quota approval has been given by the Local Centre of Approval. Family members are not eligible to apply for Dependant Pass visa.
Temporary Employment Pass (TEP) Prerequisites
All quota approval applications must be lodge with the Local Centre of Approval, Ministry of Foreign Affairs. Levies must also be paid to the same department. Employers must apply for the Visa with Reference (VDR) and the Visitor's Pass (TEP). Foreign workers must be outside Malaysia at the time of application. They will only be allowed to enter Malaysia once the application has been approved.
 Foreigners will be allowed to enter Malaysia via these permitted entry points:
Kuala Lumpur International Airport (KLIA). Foreign workers must have a working visa from Malaysian Representative Offices overseas.

Other entry points from Thailand and Indonesia. Foreigners from here must obtain a working visa from the Malaysian Representative Office in that country.
Foreigners will also be required to undergo medical examinations at FOMEMA registered clinics / health centres to obtain a clean bill of health. The Visitor's Pass (Temporary Employment) sticker can be obtained from the State Immigration Office, or at the Malaysian Immigration Headquarters, Putrajaya.
Residence Pass-Talent (RP-T) Prerequisites
The Residence Pass-Talent (RP-T) program is a 10-year renewable visa designed for exceptionally skilled expatriates from various fields like Oil, Gas, Energy, ICT, Finance, Education, and Business, aiming to make sustained economic contributions to Malaysia. To be eligible, you need:
Three years of work experience in Malaysia.

A valid Employment Pass with over 3 months' validity.

Good tax payment history for the past 2 years.

A monthly salary over RM15,000 (excluding extras).

Educational qualifications (degree, diploma, or certificate) and 5 years of work experience in general.
Employment Pass vs Residence Pass-Talent (RP-T)
Self-Application
The RP-T holds a significant difference compared to other types of employment Visas because unlike other employment passes, the RP-T is not required to be applied by the employer. Instead, it is mandatory for submission to be made by the applicants themselves, and not by any agent. This suits its purpose to cater to professionals seeking to work and live in Malaysia without being bounded by the employing company. Hence, this comes with the perk of RP-T pass holders not needing any form of working pass or visa conversion in the case of a change of employer.
Dependents
Typically, Malaysia Dependent Pass holders are not allowed to work under the conditions of the Dependent Pass. If a family member of an EP holder wants to start working, they must convert their Dependent Pass into an Employment Pass.
However, spouses of RP-T holders can seek employment without applying for Employment Passes of their own.
Other than that, children under the age of 18 will be able to pursue primary and secondary education in Malaysia.
Other Notes
Presently, the Government is only reviewing applications from foreign professionals who have been employed in Malaysia for a continuous period of three years or more at the time of their RP-T application.
Malaysia's Immigration Requirements
Effective from June 2016, there are new work visa Malaysia requirements that all foreigners must be aware of. These changes must be considered when lodging your work permit application. The changes were introduced by the Immigration Department of Malaysia, and they include:
Employment Pass and PVP holders must show a copy of the approval letter upon arrival. You will not be able to enter the country while your work visa is still being reviewed.

Foreigners must exit Malaysia to renew their work visas. In-country renewals are no longer applicable.

For Employment Pass Category I and II holders, the minimum monthly salary of RM5,000 can no longer include allowances. Allowances are no longer included to meet the minimum salary requirement.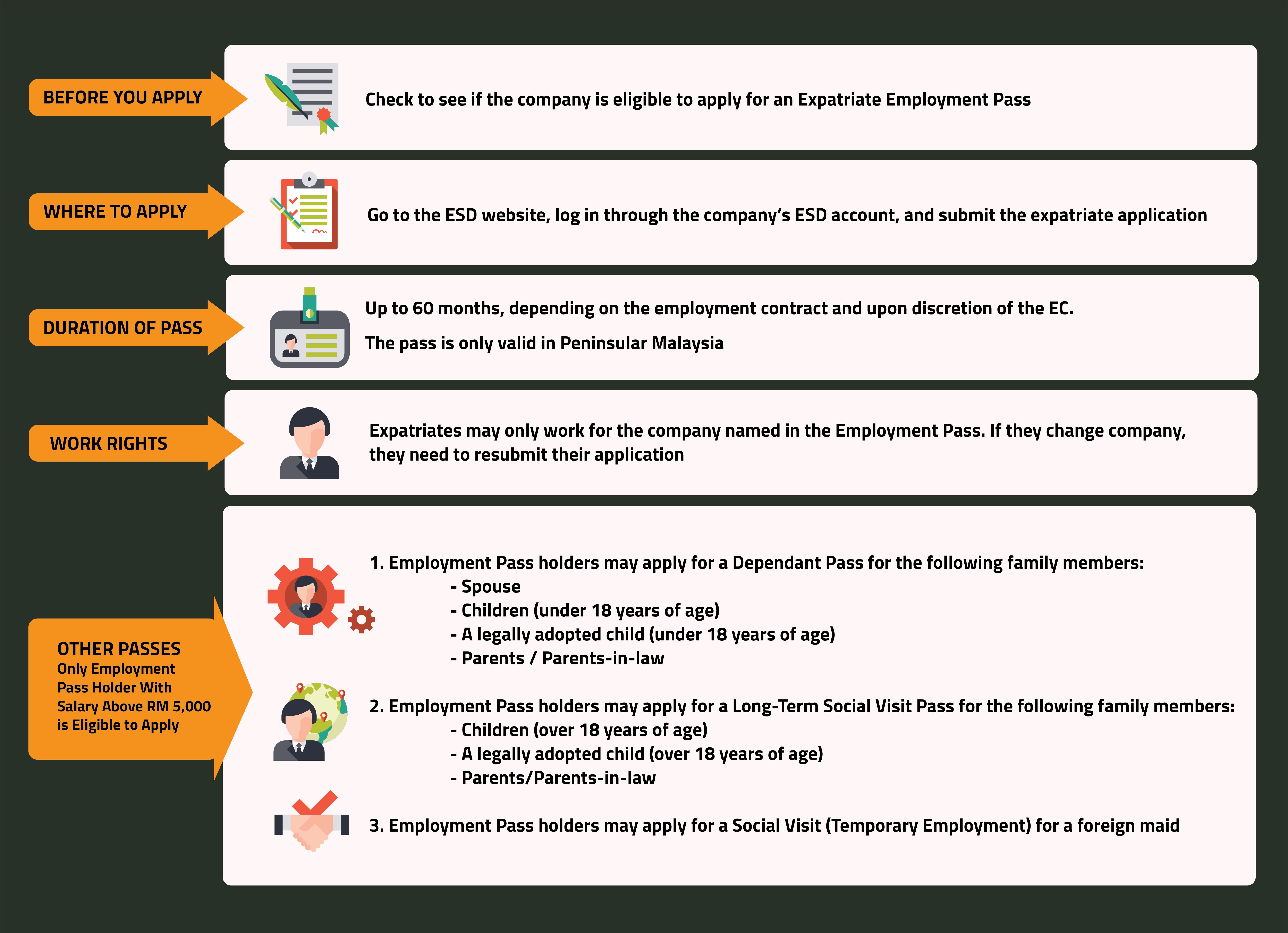 Which Nationalities Require a Malaysia Working Visa?
All individuals who are looking to work in Malaysia will require a work visa, regardless of nationalities.
From which Countries do most Foreign Workers in Malaysia Originate?
Timothy
2020-04-28T17:30:49+08:00
The Malaysian workforce includes a great many foreign workers. Most of them come from other countries in the Asia-Pacific region. Among the countries from which many foreign workers in Malaysia originate are Indonesia, India, Pakistan, Nepal, and Bangladesh.
How are Racial and Religious Minorities Treated in Malaysia?
Timothy
2020-04-28T17:30:06+08:00
The Malaysian government gives all people living there, including foreign workers, opportunities to freely express their religion without fear of discrimination. People of racial minorities are accepted as valued members of Malaysian society. Malaysia's acceptance of diversity is one of the reasons many expatriates prefer Malaysia to other Southeast Asian countries
How does the Cost of Living in Malaysia Compare to that of other Countries?
Timothy
2020-04-28T17:29:24+08:00
The cost of living in Malaysia is fairly low compared those of most other countries as well. The prices of commodities are low and accommodation is cheap. This gives one an opportunity to save much money while at the same time enjoying life in Malaysia.
Share This Story, Choose Your Platform!