In Malaysia, the role of a Company Secretary is significant for legal adherence as well as a company's success. To comply with Section 241 of the Companies Act 2016, companies are required to appoint a qualified Company Secretary to share legal responsibilities with the director. There is a need for Company Secretaries to fulfill various criterias which ensure professionalism in order for such companies to be able to operate with the support of knowledgeable and competent support.
At Paul Hype Page, we understand the critical role that a Company Secretary plays in ensuring compliance, governance and smooth operations for businesses in Malaysia. As a leading provider of corporate secretarial services, we offer comprehensive solutions to meet the diverse needs of companies operating in this dynamic business landscape.
Malaysia Company Secretary: Things You Need to Know
A Company Secretary must be:
Appointed 30 days from the date of incorporation.
A Natural Person and above 18 years old.
A Malaysian citizen or Permanent Resident in Malaysia.
Such individual must reside in Malaysia by having a principal place of residence.
Not convicted of any crime or declared bankruptcy.
A member of at least one professional body.
In Malaysia, a Company Secretary must meet specific requirements as set forth by the Companies Commission of Malaysia and the Ministry of Domestic Trade, Cooperative, and Consumerism. The individual must either hold a license from the Companies Commission of Malaysia under Section 20G of the Companies Commission of Malaysia Act 2001 or a member of one of the professional bodies prescribed by the Ministry.
Minimum Qualifications :
| Education level: | Minimum experiences: |
| --- | --- |
| Sijil Pelajaran Malaysia (SPM) / Sijil Tinggi Pelajaran Malaysia (STPM) | Minimum 5 years working experience |
| Holders of a certificate in the field of company law, company secretarial practise, management, business administration or accounting | Minimum 3 years working experience |
| Diploma in the field of company law, company secretarial practise, management, business administration or accounting | Minimum 2 years working experience |
| Degree in the field of company law, company secretarial practise, management, business administration or accounting | Minimum 1 year working experience​ |
Compliance and Adherence With the Statutory Requirements and Regulations
A Company Secretary plays the role to maintain proper corporate records, assisting in the preparation and submission of necessary documents to regulatory authorities, and providing advice on corporate governance matters.
A Single Director and Company Secretary Can Be the Same Individual
This means that if the company has only one director, he/she can also assume the role of the Company Secretary. However, it is essential to ensure that the individual possesses the necessary qualifications, expertise, and capacity to fulfill both roles effectively.
Roles & Responsibilities of a Malaysia Company Secretary
Check Your AGM & Annual Filing Due Date
Enter your company name to generate the dates for your AGM and annual filing.
Factors to Consider When Hiring a Company Secretary in Malaysia
With the increasing importance of a Company Secretary, the onus is on the company to hire the right one that best suits the business. Here are some green flags to consider before hiring a Company Secretary:
How to Appoint a Company Secretary in Malaysia
The first Company Secretary at the point of incorporation is proposed in the Articles of Association. Any subsequent appointment of Company Secretaries will be done by the board which only requires the formal board resolution.
The Company Secretary submits the incorporation documents to the SSM within 30 days of receiving the Certificate of Incorporation. The Registrar of Companies will then record the name in the Companies Register within one month of receiving the form.
Small and Medium Enterprises (SMEs) may not have enough resources to keep a fully legal department headed by a Company Secretary and hence, the company can engage corporate secretarial services to carry out the duties of a Company Secretary.
How to Remove a Company Secretary in Malaysia
If a Company Secretary decides to resign, he/she will have to follow the procedure as stated below.
1

Company Secretary will issue a letter of resignation to the board of director

2

The position of the Company Secretary is to be filled within 30 days of the declaration of the vacancy

3

New secretary is to submit Form 49 to the Registrar of Companies and record the changes accordingly in the company's Register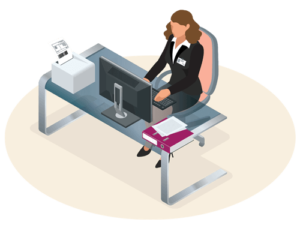 Disqualifying a Company Secretary
There are rules and regulations for every Company Secretary to stick by, and failure to do so will result in their disengagement from the company.
A declaration of bankruptcy by the Company Secretary
A criminal conviction within or out of Malaysia for any offense in the Companies Act
When he ceases to be a member of a body prescribed by the Minister under which the Company Secretary was admitted
When the Company Secretary ceases to be a holder of a valid license
One-stop Corporate Service Provider in Malaysia
Centralise all your business requirements by engaging a top regional corporate service provider beyond just Malaysia corporate secretarial services. Find out why we can be your enabler of your business success and growth.
Malaysia company registration
Malaysia employment pass & work visa application
Malaysia business licenses application and status registration
Bank account opening
Accounting & auditing
Annual reporting
Asset Management
Expert Guides on Malaysia Corporate Secretary
Equip yourself with business knowledge to ensure that you engage the right company secretary for your business and how you can stay compliant with Malaysia's Company Act 2016.