Malaysia's growing economy and tax incentives have drawn many investors who have decided to set up a company in Malaysia. Whether you are a business owner or a professional seeking employment in Malaysia, it is important to understand the types of work pass available and the process for employment pass application.
This article will run through a deep dive into the conditions, requirements, and application process for employing foreign workers, to give some insight into our employment pass services.
Requirements for Employers Hiring Foreign Workers
Before hiring foreign workers, employers will need to consider several terms and conditions highlighted by the Ministry of Home Affairs – Immigration Department of Malaysia:
1. The foreign workers are only allowed to work within these sectors:
Manufacturing
Construction
Plantation
Agriculture
Services
2. Employers must first obtain the quota to hire foreign workers from the Ministry of Home Affairs, One Stop Centre (OSC)
3. Foreign workers must be the age of at least 18 years old or above but below 45 years old at the time the application is made
4. The certified PASS for Immigration Security Clearance (ISC) can be retrieved at the source country based on this list.
5. The foreign workers must be deemed fit and healthy as approved by the medical centre in the source country based on this list.
6. The foreign workers must not be one of those listed foreign individuals who are prohibited from entering Malaysia under Section 8(3) of the Immigration Act 1963.
Types of Work Passes in Malaysia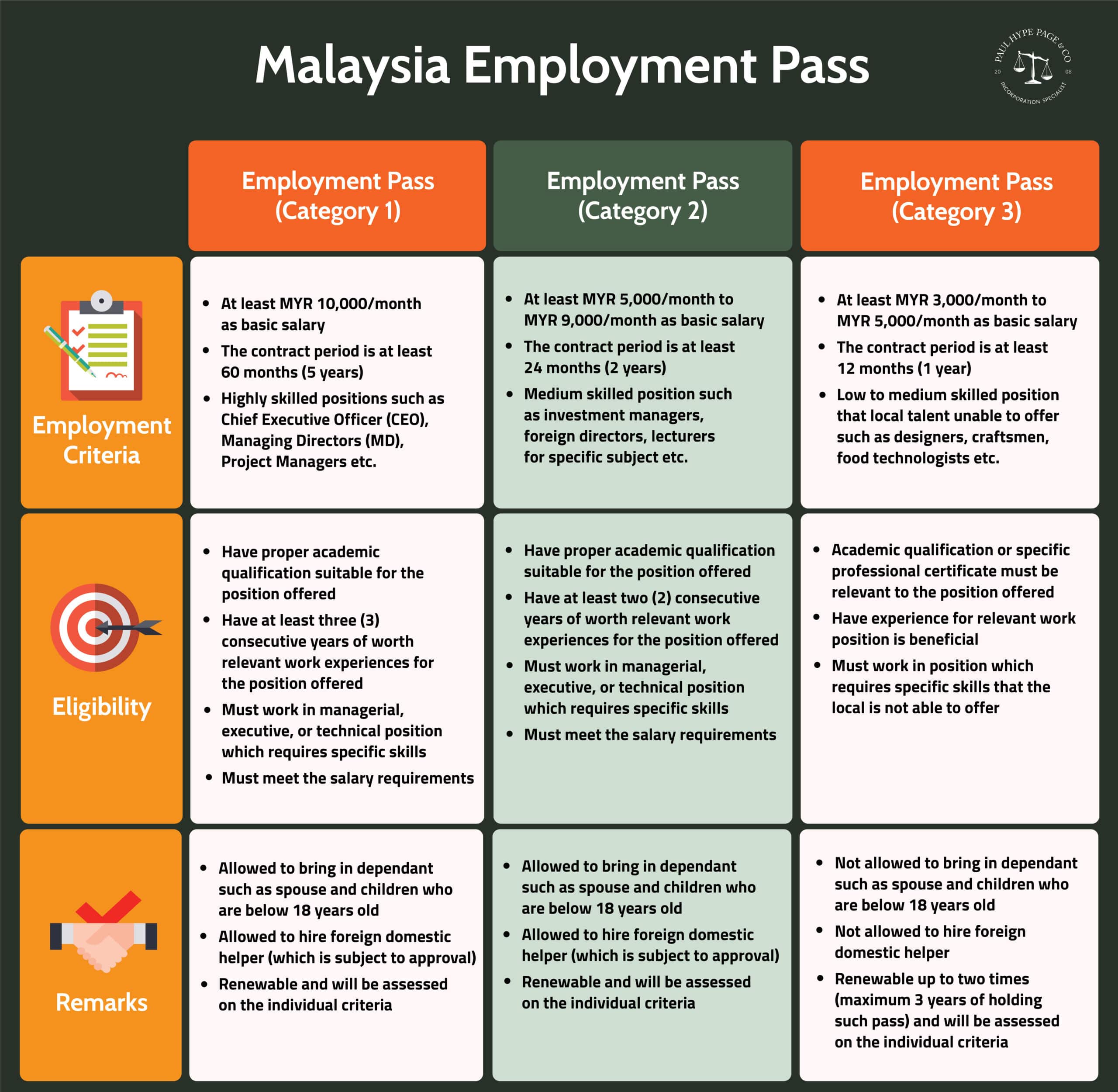 NOTE: The type of work pass you are eligible to apply for is dependent on your job type and skills, including your monthly salary.
Requirements for Applicants to get a Work Pass in Malaysia
Before securing employment in Malaysia, there are some requirements that you should take note of, which include:
Your passport must have a validity period of at least 18 months

Must be 27 years old & above – for IT sector, you must be 23 years old & above

All your family members must have a valid passport

Should be fluent in English/ Bahasa Malaysia
Work passes in Malaysia in general last between six months and five years. This depends on the type of pass the employee has and the duration of the work. Dependants of the work pass holder, who are above 21 years, have to apply for their permits if they would like to work in Malaysia. Dependants pass holders above 21 years old who followed their family into the country have to apply for their permits if they would like to work in Malaysia.
Qualifications Required for a Malaysia Work Pass
The eligibility criteria for a Malaysia Work Pass are listed below:
Skilled Workers
Qualifications – bachelor's degree or higher

Minimum of three years of work experience in the relevant field

Diploma holders must have at least five years of work experience in the relevant field

Technical certification or equivalent holders must have at least seven years of work experience in the relevant field
Shareholders and Directors
Minimum of 30% equity in the company

Status as an SSM-registered director

Shareholders must meet both requirements stated
Documents Required for Malaysia Employment Pass Application
To apply for your employment pass in Malaysia, the following documents are required:
Copy of the company's telephone bill

Copy of the MyKad or passport belonging to the company director

Tenancy or Sale and Purchase Agreement

SSM Form 49 (certified true copy)

SSM Form 9 (certified true copy)

SSM Form 24 (certified true copy)

Copy of the e-SSM printout

Copy of the Local Authorities License if applicable

Other business licenses if applicable

Copy of the latest financial report of the company

Exemption letter from the minimum salary requirement (Category EPIII only)

Other documents which may be requested
Employment Pass Application Process in Malaysia
The company needs to apply for an "expatriate post" at one of the following government agencies:
Multimedia Development Corporation – for jobs in the technology sector

Malaysia Industrial Development Authority – for the manufacturing and services sector

Malaysian Biotechnology Corporation – for jobs in the biotechnology sector

Central Bank of Malaysia – for sectors in finance, banking, and insurance

Securities Commission – for the securities and futures market sectors

Expatriate Committee – for sectors that are not under the above
This prior approval is needed as the Malaysian government has currently has strict regulations imposed on the number of foreign workers that a Malaysian-based company can employ. If you intend to hire foreigners under a Malaysian company, they are required to prove to the authority on why the chosen foreigners are important to the position and how can they contribute.
The companies will also need to state reasons on why a local is unable to fill the position. Before proceeding with the Malaysia employment pass application, companies must request a quota from the Immigration Department.
The steps for applying a Malaysia employment pass are as follows:
Company Profile Registration
Companies are required to submit all expat-related information required by the authority online via the Expatriate Services Division (ESD) website.

Projection of expat recruitment

Submission of the Malaysia employment pass application
NOTE: The applications will be assessed on an individual basis and is subjected to approval based on the merits of the application.
What to Do After Employment Pass is Approved in Malaysia?
After getting your Malaysia employment pass approved by the authorities, you can enter the country to finalise the process. Some nationalities require a visa to initially enter the country.
TIP: Be sure to check with your agent or employer if the EP you applied for requires an additional visa.
Here are the generic steps to get your employment pass visa on your passport after entering the country.
Submit the following documents to the government portal you applied with:

Passport copy
Entry stamp
Flight tickets

Note that more information and documents may be required – those will be indicated in the portal.

Make payment for your passport endorsement. This is for them to generate the employment pass sticker which will be pasted on your passport.

Make a booking with MYXpats Centre to head down for submission of passport. They will physically stick the visa on your passport. If you are unable to go down on your own, you can create an authorisation letter to grant the individual the rights to receive the employment pass on your behalf.

NOTE: You will still have to submit your passport to the officer at MYXpats – this means that the person whom you grant the rights to assist with this process should be someone you trust.
The appointment date should be more than 5 working days after you have made payment.

You complete your employment pass endorsement once you have received the sticker on your passport. Now, you are able to enter and exit Malaysia anytime until your visa expires.
TAKE NOTE: Often, we have seen those who have their EP approved skip the endorsement portion. This means that after getting the approval, they straight away make a booking for the submission of passport to get the sticker without paying.
From 1 March 2023 onwards, all foreign professionals holding the Employment Pass (Categories I, II, III) can now complete their endorsement at ESD Satellite Centre (ESC), Kuala Lumpur International Airport 1 (KLIA1). Applicants need to provide the Confirmation Letter for endorsement.
If unsuccessful, endorsement will be done over the counter at the service centres outside of KLIA1.
What are the 3 categories of the employment pass?
Timothy
2021-09-17T00:15:43+08:00
The 3 categories of employment pass are as follows:
Category I (EPI) – for applicants who earn a fixed monthly salary of at least RM10,000 and a valid employment contract for a minimum of 5 years.
Category II (EPII) – for applicants who earn a fixed monthly salary of at least RM5,000 up to RM9,999 and a valid employment contract of 2 years.
Category III (EPIII) – for applicants who earn a fixed monthly salary of between RM3,000 to 4,999 and a valid employment contract period not exceeding 12 months.
If my employment pass application is rejected, am I allowed to appeal the decision?
Timothy
2021-09-17T00:14:50+08:00
Yes, an appeal can be lodged 14 days after receiving notice of the decision for your initial application.
Can anyone from any country receive an Employment Pass?
Timothy
2021-09-17T00:14:08+08:00
The current regulations regarding the Employment Pass do not bar anyone from receiving one on the basis of nationality. Anyone who meets all of the relevant criteria may receive it. Therefore, any eligible person from any country may receive an Employment Pass.
Share This Story, Choose Your Platform!