Malaysia is one of the world's leading destinations for starting a business. This is because of the relative ease of registering a company in Malaysia. Indeed, the process of registering a company in Malaysia is a smooth and straightforward process.  
A business in Malaysia cannot legally operate without a business license which is valid in Malaysia. Although some may assume that the process of applying for a license is complex, such is certainly not the case.
Why Malaysian Companies Need a Business License 
Obtaining a business license in Malaysia is a requirement as specified by the Companies Act. Every company in Malaysia is to abide by this requirement.  All companies in Malaysia are regulated by the Companies Commission of Malaysia (SSM). Complete foreign ownership of certain business entities, such as the private limited company (Sdn Bhd), is legally permitted. However, a completely foreign-owned company in Malaysia will nevertheless require some local Malaysian staff members to be employed.
Duration of Business License Approval
The total application time may be anywhere between one month and six months. The duration depends on the type of industry license for which the business owner is applying. (this includes small businesses and retail stores). The ministry that issues the business license will inspect the business premises before doing so.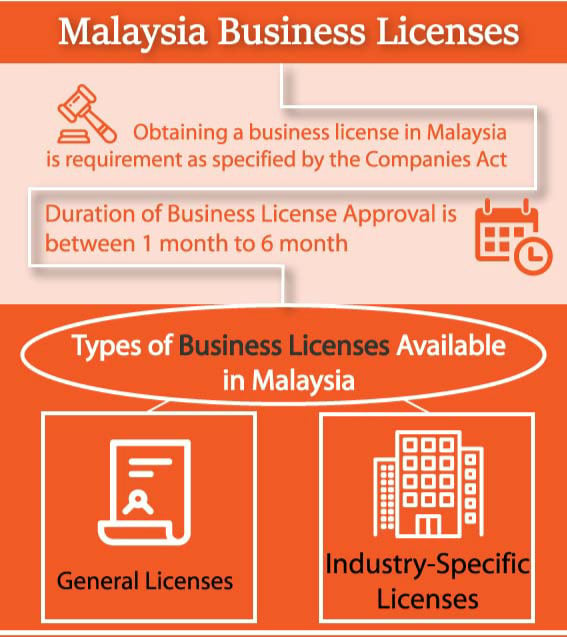 Types of Business Licenses Available in Malaysia
Malaysia has two business license categories. All business licenses in Malaysia are either general licenses or industry-specific licenses. General licenses are for anyone who plans to register a business in Malaysia. Industry-specific licenses, on the other hand, are licenses which are unique to certain industries. 
Businesses, including Sendirian Berhad (Sdn Bhd) companies, limited liability partnerships (LLPs), and limited partnerships are required to have a business license. Similarly, establishments which sell alcohol will require a liquor license.  
The business licenses in Malaysia which one is required to obtain depend on the industry and the type of business activities involved. The following table lists the available licenses offered by the Malaysian government.  
| | |
| --- | --- |
| Industry | License   |
| Manufacturing/Factory   | Manufacturing License   |
| Banking   | Central Bank License for Banking, Financing, and Leasing   |
| Direct Selling   | Direct Selling License   |
| Construction   | Construction Industrial Development Board and Engineering License   |
| Distributive Imports and Exports   | Wholesale Retail Trade (WRT) License for Trading, Import and Export, Consultancy, and Restaurant Business Management   |
| Education   | Licenses for establishing Schools, Colleges, Universities, Tuition Centers, and Language Centers   |
| Transport   | Car Rental and Vehicle Leasing License   |
| Hotel   | For Budget Hotel License and Luxury Hotels   |
| Tourism   | Inbound, Outbound, Ticketing License   |
| Media   | Publication License for Magazines and Books / Broadcasting License for Music, Singing, TV, and Radio   |
| ICT   | Multimedia Super Corridor (MSC) License   |
| Manufacturing   | Manufacturing License   |
Those who intend to operate in the retail industry or be in charge of factories or restaurants as a foreigner in Malaysia, will be required to apply for business licenses from the following government departments:   
SSM  
Local town councils in Malaysia 
Fire Brigade Department   
Foreigners will also need to apply for a business premise license, especially those who own real estate for the business. The requirements of this license will vary; they depend on the local authorities and state authorities in the location where the application is to be lodged. Applications may require additional processing time if a premise inspection is to be conducted.  
Other Trade Licenses 
Foreigners in Malaysia may require other trade licenses to operate their business. The Wholesale, Retail and Trade (WRT) License is among the most common trade licenses required by foreigners.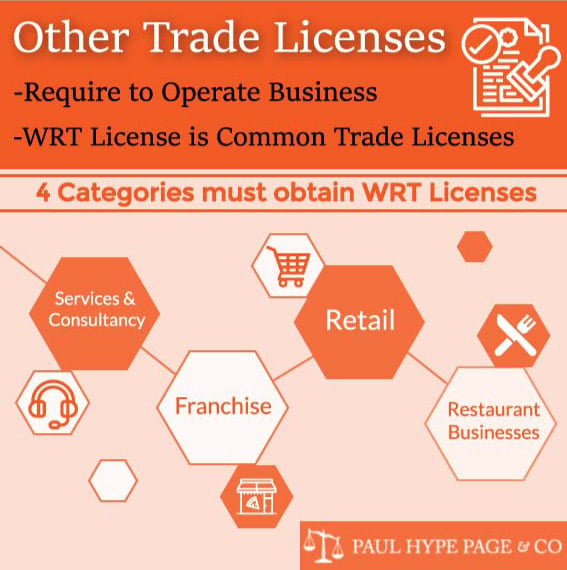 The WRT license is also applicable to non-resident companies which are completely foreign-owned. Business which are involved in any of the following industries will be required to apply a WRT license:   
Retail (franchise, goods, and services)  
Import  
Export  
Consultancy activities  
Trading  
Franchise    
A WRT license is renewable every two years. There are four options available under this category, which are as follows:  
Services and Consultancy  
Franchise Business  
Restaurant  
Retail, Trading (Import and Export), Distributive Trades
Foreigners must obtain a WRT license approval for the categories mentioned before they can apply for their DP10 work permit with the Immigration Department of Malaysia.   
To apply for a WRT license, the minimum paid-up capital which is needed for the license application is RM1 million. This includes all categories for this license, and the company must be fully set up with a valid tenancy agreement. If the company is a newly incorporated company, the company owner is to submit the company's business plan.   
How Paul Hype Page & Co Will Be of Service
At Paul Hype Page & Co, we offer our clients a unique experience through our comprehensive, all-in-one incorporation packages and services. Our company incorporation and comprehensive post-incorporation services can be tailored specifically for your business; thus, we can cover all your business needs. For more information about company incorporation in Malaysia, visit our website or contact us today for more information.
Malaysia Business Licenses FAQs
Are Business Licenses from Malaysia also valid in other Countries?
Tiwi
2020-04-27T12:34:30+08:00
Business licenses issued in Malaysia only pertain to businesses which have been set up there. Therefore, such licenses are not valid in countries other than Malaysia. 
What is a DP10 Work Permit?
Tiwi
2020-04-27T12:33:54+08:00
In Malaysia, a DP10 work permit is also known as a Professional Work Permit Visa. It is valid for two years but can have its validity extended by up to 10 years. It is meant for foreigners deemed to be skilled workers.
What are the Primary purposes of SSM?
Tiwi
2020-04-27T12:33:06+08:00
SSM was established in 2002. It is a statutory body that functions under the auspices of the Malaysian government. Its primary purposes are those of assisting in company incorporation and business registration as well as providing information about companies and businesses in Malaysia to the public.