Difference between SDN BHD, Sole-Proprietor and Partnership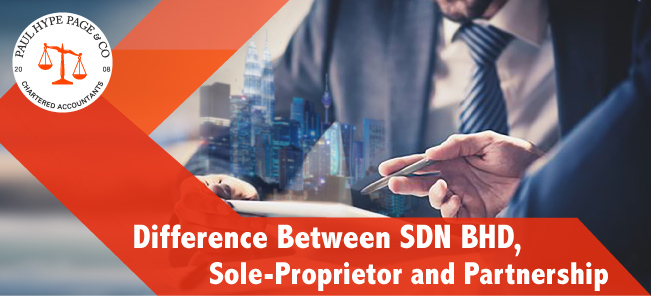 Sole-Proprietor: is a traditional and a commonly used business structure around the word. Sole Proprietor is also known as a Sole Trader. For some businesses, this structure is suitable because it is the easiest and the cheapest form of business structure out there.
Partnership: is the second most common structure of business out there. Basically what happens in a partnership is that the business is owned by two or more separate entities.
SDN BHD: stands for Sendirian Berhad. SDN BHD is a private limited company which cannot make its shares available to the general public. To Incorporate or register a SDN BHD (Private Limited or LLC) company in Malaysia must have a minimum of 2 directors. As the shareholder / director of a SDN BHD, you don't need to put your personal wealth and assets at risk.
Why is choosing the right business structure for your business important?
Choosing the right business structure is crucial decision for a business. If the right business structure is chosen it boosts a business towards success. The correct business structure will help businesses to reach their full potential. If a business fails in choosing the right structure it will face several severe difficulties while operating in the long run.
Setting up a Business in Malaysia using Sole Proprietorship structure
Sole Proprietorship is a very risky structure for a business to choose. The Sole Proprietorship business in Malaysia is owned by only one individual. The liability is unlimited on that single owner. Unlimited Liability means that if the business fails to survive or declares that it has been bankrupt, creditors will be able to sue that one individual who owns the business for all the debts that he owes to those people. This means that that the personal assets, personal income and employment of the owner are all liable.
The benefits for a Sole Proprietorship Entity is that there will be less paperwork and less additional legal formalities. (Registration is easy, faster and fewer documents are required). Price of Entity formation is cheaper and is not required for the Malaysian Government to be audited. In addition Sole Proprietorship businesses are not required to disclose their financial statements to the public. Last but not the least it is easier to convert into a limited company (SDN BHD).
Setting up a Business in Malaysia using Partnership structure
As stated above a Partnership Business is jointly owned by two or more individuals. A partnership structure is quite similar to a Sole Proprietorship structure. The only two main differences that can be seen are:
Their own partnership agreements are to be made or to be set to default, which shall be governed by Malaysia's Partnership Act 1961.
Sole Proprietorship requires only 1 individual to own the business, a Partnership requires minimum two owners or maximum 50 individuals.
In Malaysia this kind of structure is suitable for small scale businesses. All partners are jointly liable and responsible for the all the possible losses and for the business's failure. The startup cost will be RM 100/- plus. The yearly maintenance be RM 1500/- plus. Time to start business will only be 1 hour at the SSM counter. The income tax exposure will be very high. Most businesses do not keep proper accounting records. The tax planning opportunity will be limited. Business profit will be taxed at each partner's personal level. The tax provisions will be unfavorable for the business. The business continuity will be affected if a partner dies. The business could get closed or the beneficiaries do not easily get what was left behind by the passing partner. Unlikely to get a loan from the bank. Partners may have different persona capacity.
Setting up a Business in Malaysia using SDN BHD (Sendirian Berhad)
Setting up a company in Malaysia by using the SDN BHD (Sendirian Berhad) structure is the best choice for an Entrepreneur. This structure should be opted for by an entrepreneur who is committed and ambitious about his or her business. There are major benefits of using this structure which no other structure offers.
The liability is limited. An entrepreneur's personal wealth is protected if the business encounters a loss or if the business fails.
Another major advantage of this structure is that the income tax risk exposure is low. Most SDN BHD are better managed and regulated. The tax planning is better as the company is a separate legal entity. Tax saving up to 20% compared to individual tax rate.
The Business Continuity will never stop. A company using SDN BHD structure will never expire and the company will exist even if the key owner passes away.
Getting a loan is easier for this structure. It all depends on company's cash flow, strategy and business prospects. Accounts of SDN BHD Company are more reliable and trustworthy.
Incorporation company in Malaysia require you to engage the service of company secretary, to help you to complete the company registration process.
Every company (sdn bhd) must have at least one company secretary in the Board and the company secretary must be a member of a professional body or licensed by SSM Malaysia.
Contact Paul Hype Page Corporate Specialist today for all your incorporation needs.
Which Stage of Business Are You At?
HELIOCENTRIC PTE. LTD.
— Nayagam Zora
Another Successful Company setup with Employment pass.

Happy Client, Zora, HELIOCENTRIC 
Zora started her career in media production …