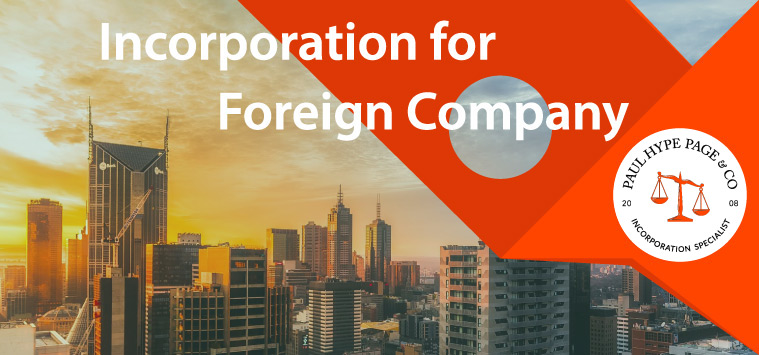 Already have a company but want to set up in Malaysia? With Malaysia's huge market bursting full of opportunities, you may have consider registering your company here but do not know how to.
At Paul Hype Page, we have 2 physical offices with our own staffs in Singapore, and Malaysia. Further, we have satellite offices in United State, Australia, Hong Kong and China who can assist your offshore operation. Our clients are able to leverage our presences in these countries and outsource their daily operation or high level management reporting.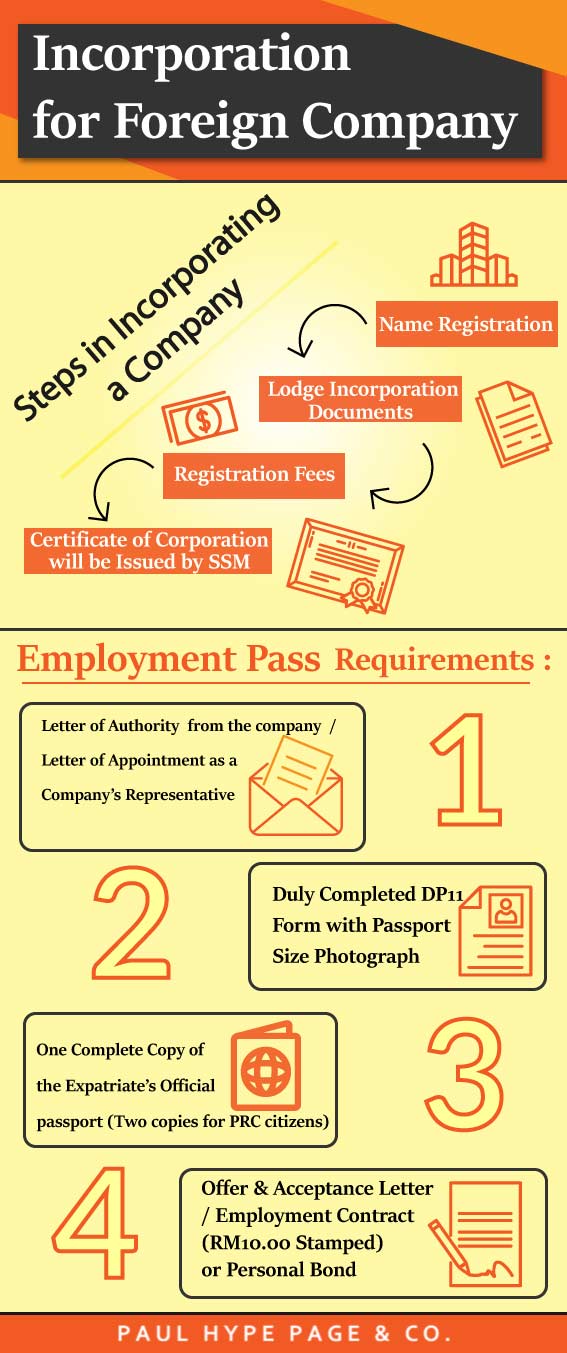 Our Services range from International tax planning, Incorporation, Accounting, Legal, Human Resource and running your daily operation
Company Incorporation
Foreign companies who want to set up companies in Malaysia have the following options:
Incorporating a local company with the Companies Commission of Malaysia (SSM); or
Registering the foreign company in Malaysia with SSM.
Steps in incorporating a company
Name registration
Once applied name is successful, to lodge incorporation documents within 3 months from the approval date of company's name
Incorporation documents include:
– Memorandum and Article of Association
– A certified copy of the certificate of incorporation or registration of the foreign company
– Form 79 (Return by Foreign Company Giving Particulars of Directors and Changes of Particulars)
*NOTE: If the list includes directors residing in Malaysia who are members of the local board of directors of the foreign company, a memorandum stating their powers must be executed by or on behalf on the foreign company and submitted to SSM.
– A memorandum of appointment or power of attorney authorising the person (s) residing in Malaysia, to accept on behalf of the foreign company any notices required to be served on such foreign company.
– Form 80 (Statutory Declaration by Agent of Foreign Company).
– The original copy of Form 13A
– Copy of NRIC of each director and company secretary
– A copy of the letter from SSM approving the name of the foreign company
Registration fees need to be paid with the lodgement of the documents
Certificate of Corporation will be issued by SSM upon compliance with the incorporation procedure and submission of the duly completed Incorporation Documents
Employment Pass
A foreigner who wants to work in Malaysia need to obtain an Employment Pass. An employment pass is normally for the following posts:
(A) KEY POST
Top Managerial Post of a foreign owned company operating in Malaysia.
Responsible for looking after the company's interests and investments.
Responsible for determining the company's policies and goals.
(B) EXECUTIVE POST
Professional/Middle Managerial Post.
Required academic and working experience, practical skills related to the respective jobs.
Responsible for implementing the company's policies and supervision toward the junior staff.
(C) NON-EXECUTIVE POST
Highly skilled
Require working experience and technical skills related to the respective jobs.
Requirements for Employment Pass
One (1) set of application form together with the following supporting documents:
(i) Letter of Authority from the company or letter of appointment as a company's representative.
(ii) Duly completed DP11 Form with passport size photograph.
(iii) Offer and Acceptance Letter or Employment Contract (RM10.00 Stamped) or Personal Bond which has been stamped with a RM10.00 revenue stamp for the application of a Visitor's Pass (Temporary Employment)
(iv) One complete copy of the Expatriate's Official passport (Two copies for PRC citizens).
Other documents required:
Letter of approval from MIDA/BNM/SC/JPM/LHDN where relevant (approval from EC and MDEC is not required)
Print-out of company's profile from Companies Commission of Malaysia (SSM) or form 9, form 24 and form 49 for approval by MIDA and EC (if EC imposes capital appreciation).
Expatriate's resume, copies of Diploma/Degree for non
key posts under the approval of MIDA (for posts approved by MIDA and its incumbent, the above supporting documents are not required)
Release letter from former employer if the Expatriate wishes for a change in employer.
ADDITIONAL INFORMATION:
Passport validity should not be less than 18 months.
Entry into Malaysia was in accordance with the Immigration Act 1959/63, Passport Act 1966 and Immigration Regulations 1963.
Possess a valid visa (where required)
Dual citizenship is not recognised in Malaysia.
Age (no age limit)
Salary and Expatriate post period
A minimum salary of RM5000.00 and above and at least 2 years' employment contract.
Malaysia Tax System
The tax rate for a local company set up by foreigners is different depending on the residency status of the company.
A company is tax resident in Malaysia if at any time during that basis year the management and control of its business is in Malaysia.
FOR COMPANY WHO IS A TAX RESIDENT IN MALAYSIA:
Company with paid up capital less than RM2.5million
On first RM500,000 = 20%
Subsequent balance = 25%
Company with paid up capital more than RM2.5million = 25%
AS FOR NON TAX RESIDENT COMPANY IN MALAYSIA:
Flat tax rate of 25%
INDIVIDUAL INCOME TAX FOR THE EMPLOYMENT PASS HOLDER:
Tax rates depending on the tax resident status of the individual.
A person is a non-resident under Malaysian tax law if you stay less than 182 days in Malaysia in a year, regardless of your citizenship or nationality.
Non-resident individual is taxed at a different tax rate on income earned/received from Malaysia.
For individual tax resident:
The individual is taxed at a scheduler rate ranging from 1-25% depending on the person chargeable income.
For individual non-tax resident:
The individual is taxed at a flat rate of 25%
Business Activities Requiring Collaboration with Locals
Some businesses are prohibited for foreigners:
Engineering & Technical Expert 
Conveyor Vulcanizing
Digital Imaging
Experts In Steel Treatment (Melting And Casting)
High Precision Tools And Die Maintenance
Instruments Specialists (For Petrochemincal Industry)
Manufacturing Systems Designers
Material Technologists
Metallurgist
Offshore Field Operation
Photonics
Radio Frequency Designers
Sensor Technologist
Underwater Welders
Wafer Fabrication
Wireless Technologist
Geosciences & Geophysical Disciplines
Geoscientists
Geotechnologists
Metallurgists
Seismologists
Medical & Pharmacy
Production
Specialists
Technical
Electrical & Electronics
Analogue Designers
Microwave Designers
Environment
Textiles & Minerals Industry
Craft/Design Cutting Specialists
Craftsman/Engraving
Designers
Dye Technologists
Dyeing Technicians
Food Industry/Biotechnolohy
Biotechnologists
Biotechnology Analysts
Disease Control/Quarantine
Dyestuff Specialist
Food/Nutrient Technologists
Genetic Engineering Specialists
Product/Flavoring Specialist
Tea/Food Tasters
TYPES OF BUSINESS NOT ALLOWED IN DISTRIBUTIVE & RETAIL SECTORS:
Supermarket And Minimarket
Prepaid Card Business
Cyber Café
Car Glass And Aluminium Work Shop
Herbal Product Business
Spa-Only For Shareholders And Spa In Hotels
Restaurant, Bistro And Café – Exclusive Concept & Shareholders Allowed
Cleaning And Maintenance
Massage Parlour
Provision Shop
Furnitures And Fittings
Photo Frames Shop
Textiles And Clothings
Computer Accessories
Hair Salon
Laundry Shop
Small And Non-Exclusive Restaurant
Positions Not Allowed Under Construction Industry
Air Conducting Fixing
Electrical Chargeman
Electrical Wireman
Excavator Operator
Installation Of Lift And Escalator
Shovel Operator
Telephone & Telegraph Fixing
Positions Not Allowed Under Timber Industry
Forest Mils – Most Categories Of Job
Furniture Factory – All Machinery Specialists
Timber Factories – Most Categories Of Job
Position That Not Allowed Under Sport Ministry
All Management Positions Except Trainer And Sport Consultant
SERVICES THAT UNDER THE PREVIEW OF THE GOVERNMENT AGENCIES AS FOLLOWS:
1. Market Research And Public Opinion Polling Services
 2. Management Consulting Services
3. Other Business Services
Collection Agency Services
Duplicating Services
Telephone Answering Services
Translation And Interpretation Services
4. Repair Services Relate To Metal Products, Machinery & Equipment On
Electrical Machinery And Apparatus
Medical, Precision Optical Instruments, Watches And Clocks
Motor Vehicles, Trailers And Semi-Trailers
Office, Accounting And Computing Machinery
Optical Equipment
Other Transport Equipment
Personal And Household Goods
Radio, Television And Communications Equipment And Apparatus
5. Other Land Transport Services
Freight Transportation By Man – Or Animal – Drawn Vehicles
Passenger Transportation By Man – Or Animal – Drawn Vehicles
Rental Services Of Passenger Cars With Operator
Transportation Of Other Freight
6. Supporting Services For Road Transport
7. Services Related To Management Consulting
8.Building-Cleaning Services
9. Placement and supply services of personnel
Executive search services
10. Investigation and security services
Alarm monitoring services
11. Services incidental to manufacturing
12. Publishing and printing on a fee or contract basis
To handle such prohibitions, foreigners can solve this by having joint venture with Malaysian partner:
For such companies, a minimum of 50% control over the venture is maintained by the foreign directors. The other half is owned by Malaysian investors and trading partners. A minimum authorized capital of RM500000 and paid up capital of RM350000 is required.
Share This Story, Choose Your Platform!