Setting Up a Sdn Bhd Company in Malaysia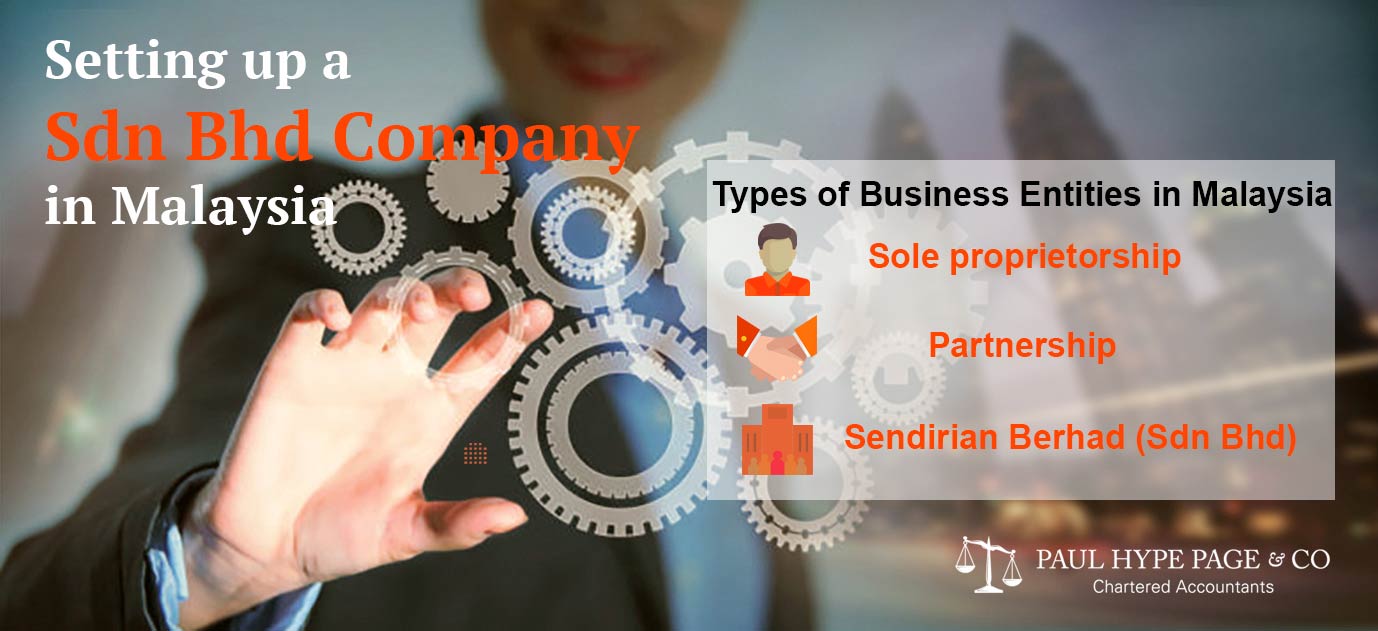 With the vast opportunities available, Malaysia is fast becoming a one of the prime destinations in Asia for Malaysia company registration. In Malaysia, foreigners can own 100% of the company if they are registered as a Sdn Bhd company.
The Companies Commission of Malaysia (SSM) is the governing body which oversees all company registration in Malaysia. The registration must be done through a local Certified Company Secretary.
Paul Hype Page provides company registrations services and our one-stop solutions will service every business need you have and help you quickly and effectively register your company in Malaysia.
Malaysia Company Registration Benefits
Among some of the benefits you stand to gain by opening a company in Malaysia are:

Malaysia is strategically positioned in Asia

Ranked 18th by the World Bank 2016 for ease of doing business

No restrictions when it comes to repatriation of capital, profits, royalties and dividends

Malaysia has double taxation treaties with 68 other countries

Low start-up costs and rental rates
The benefits that you get by registering a Sdn Bhd company in Malaysia are:
There i

s limited liability involved.
Business continuity, as a Sdn Bhd company will never expire
Acquiring a loan is much easier
Low income tax risk exposure
Company is considered a separate legal entity
Up to 20% tax saving compared to personal income tax
7 Key Points to Consider Before Registering a Company in Malaysia
Once you have decided that Malaysia is the place for you to launch your next business venture, here are some key points that you need to consider before you begin:
What kind of business are you planning to get into?

Have you prepared a business plan?

What are the available options in Malaysia for your chosen business entity?

What licenses and approvals would you need to acquire prior to starting your business in Malaysia?

Are you prepared for the costs involved in registering a company?

Are there any problems to anticipate for foreigners looking to start a business in Malaysia?
Business Entity Options in Malaysia
The types of business entities you can choose from when it comes to registering your company in Malaysia are:
Sole proprietorship

 Partnership

Sendirian Berhad (Sdn Bhd)
If you are looking at setting up your own business in Malaysia, the best option for you would be to use the company Sdn Bhd (Sendirian Berhad) structure. The benefits of using this structure outweigh all the other structure benefit advantages, especially because you will not be liable for any loss or damage personally.
Sole proprietorship and partnerships are popular options for entrepreneurs who are looking to set up small and medium enterprises, also known as SMEs.
What You Need to Incorporate a Company in Malaysia
Prior to registering a company in Malaysia, you will first need to perform a company name search. This is a mandatory step and your chosen company name must be reserved for the incorporation process once it has been approved. Your chosen company name will be reserve for a period of three months from the date of approval.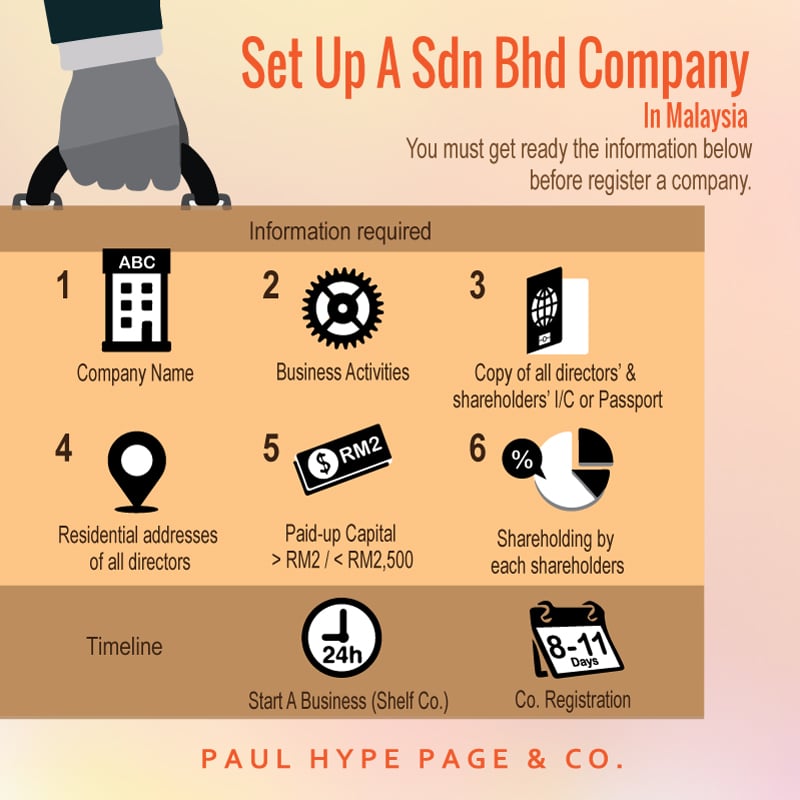 To register a company in Malaysia, you will need to be prepared with the following:
A company name
Business activities
A registered office in Malaysia
A minimum of 1 director (minimum 18-years of age and residing in Malaysia)
A minimum of 1 shareholder
A minimum of 1 Corporate Secretary who must be a member of any of the prescribed professional bodies and/or licensed by the SSM.
A minimum paid-up capital of RM1
Copy of all directors' & shareholders' Identification Card (IC) or passport
Please note that your chosen director must not have been previously declared bankrupt. He or she must also not have been convicted of any prior crimes for the past 5 years.
Timeline for Malaysia Company Registration: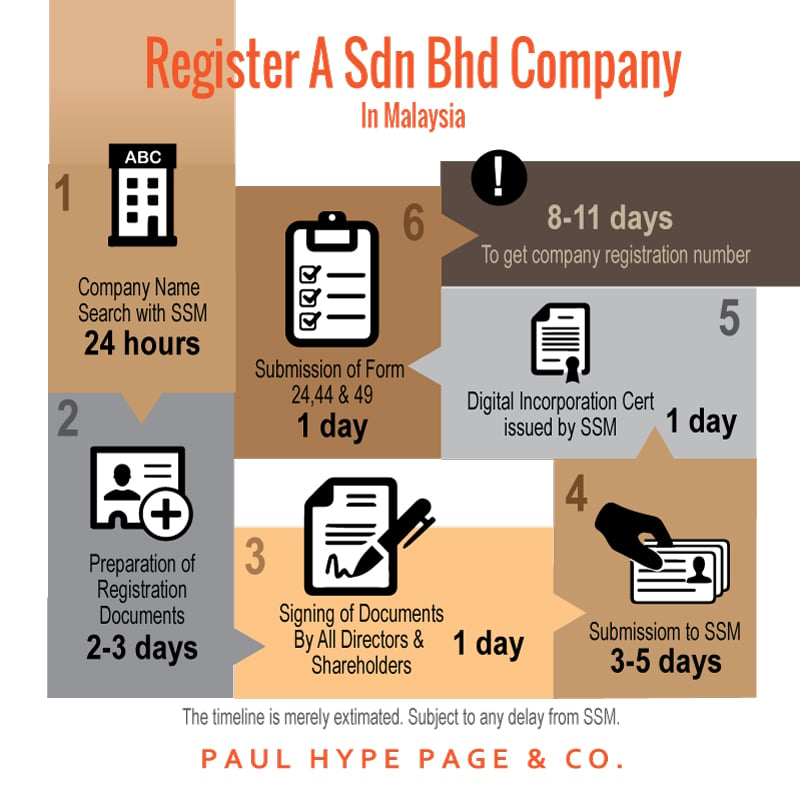 Should you choose to register a Sdn Bhd company in Malaysia, you are looking at the following timeline:
 Company name search – Within 24 hours
 Preparation of registration documents – Within 2-3 days
 Signing of documents by all directors and shareholders – Within 1 day
 Submission of documents to the SSM – Within 3-5 days
 Digital incorporation certificate issued by the SSM – Within 1 day
The timeline above is merely an estimate. In some instances, delays may occur if the SSM needs more time to verify the incorporation documents provided. It is your responsibility to ensure that all information submitted for incorporation is accurate.
(*Disclaimer – SSM shall not be liable for any misuse of information caused by the usage of any information from this website)
Company Secretarial Services
A Company Secretary is an important part of your business as they will have to deal with the regulations, policies, standards, code of ethics and guidelines during your company registration process. At Paul Hype Page, our Company Secretarial Services will ensure that our experienced Corporate Specialists will not only consult with you about the best practices, but also provide you with our full range of services which include an advisory, statutory, preparation or resolutions and more. All Company Secretarial Services are governed by the Malaysia Companies Act 1965.
Why Choose Paul Hype Page & Co
At Paul Hype Page, our expertise is unparalleled, and we will offer you the full range of services under one roof to help you find your business success in Malaysia. As a leading corporate service provider, we ensure that your company incorporation in Malaysia runs smoothly while meeting all the existing compliance laws and regulations.
By Eric Eio
Managing Partner of Paul Hype Page & Co.
Eric was awarded an ACCA graduate in 2000 and also graduated from University of Sydney with a Bachelor degree in Computer Science & Accounting. Since graduation, he had worked in Big 4 as an auditor , including a one year overseas stint with Ernst & Young, Shanghai in 2005. He left his last appointment as an Audit Managerial position with PricewaterhouseCoopers, Singapore in 2008 before setting up his own Certified Public Accountant Practice – Paul Hype Page & Co. 
Which Stage of Business Are You At?
HELIOCENTRIC PTE. LTD.
— Nayagam Zora
Another Successful Company setup with Employment pass.

Happy Client, Zora, HELIOCENTRIC 
Zora started her career in media production …