Setting Up a Sdn Bhd Company in Malaysia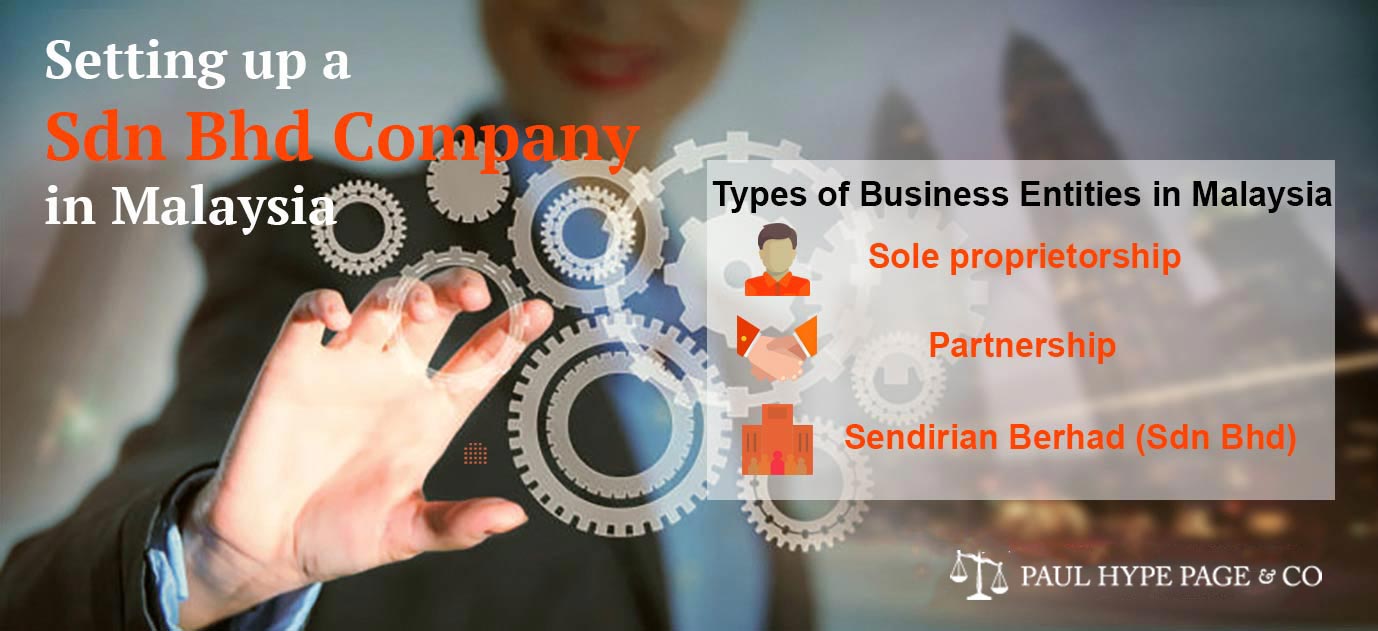 Malaysia has become one of the prime destinations in Asia for company registration. In Malaysia, foreigners can own 100% of the company if the company has been registered as a Sdn Bhd company. 
The Companies Commission of Malaysia (SSM) is the governing body which oversees all company registration in Malaysia. The registration must be done through a local certified company secretary. 
Paul Hype Page & Co provides company registration services and our one-stop solutions will serve every business need you have so that you may quickly and effectively register your company in Malaysia. 
Malaysia Company Registration Benefits
S

trategic

 

location

 in Asia

 

Ranked 

15th 

by the World Bank

 in

 201

9

 for ease of doing business

 

No restrictions when it comes to repatriation of capital, profits, royalties

,

 and dividends

 

D

ouble taxation treaties with 

many

 

other countries

Low start-up costs and rental rates

 

 
Those who register a Sdn Bhd company in Malaysia will experience the following benefit: 
Limited liabilities

 

Business continuity

 because

 a 

Sdn

 

Bhd

 company will never expire

 

Ease of acquiring loans

Low income tax risk exposure

Company is considered a separate legal entity

 
Important
 Points to Consider Before Registering a Company in Malaysia
There are certain points to be considered by those planning to register a company in Malaysia. They are as follows: 
Business field

 

B

usiness plan

 

B

usiness entity

 

L

icenses and approvals 

 

Registration costs

In the case of foreigners, other problems which may specifically arise 

with regard to

 foreigners living and working in Malaysia

 
Business Entity Options in Malaysia
The types of business entities from which one may choose for the registration of a company in Malaysia are the sole proprietorship, partnership, and Sendirian Berhad (Sdn Bhd) company. The following paragraphs will explain more about the Sdn Bhd company and how one may be set up in Malaysia. 
Incorporat
ion of a 
Sdn
Bhd
 Company in Malaysia
The process of registering a Sdn Bhd company in Malaysia is similar to the registration processes related to all of Malaysia's other business entities. Before one may register a company in Malaysia, the prospective company owner is required to perform a company name search. This is a mandatory step. The chosen company name must be reserved for the incorporation process once it has been approved. The chosen company name will be reserved for a period of three months from the date of approval.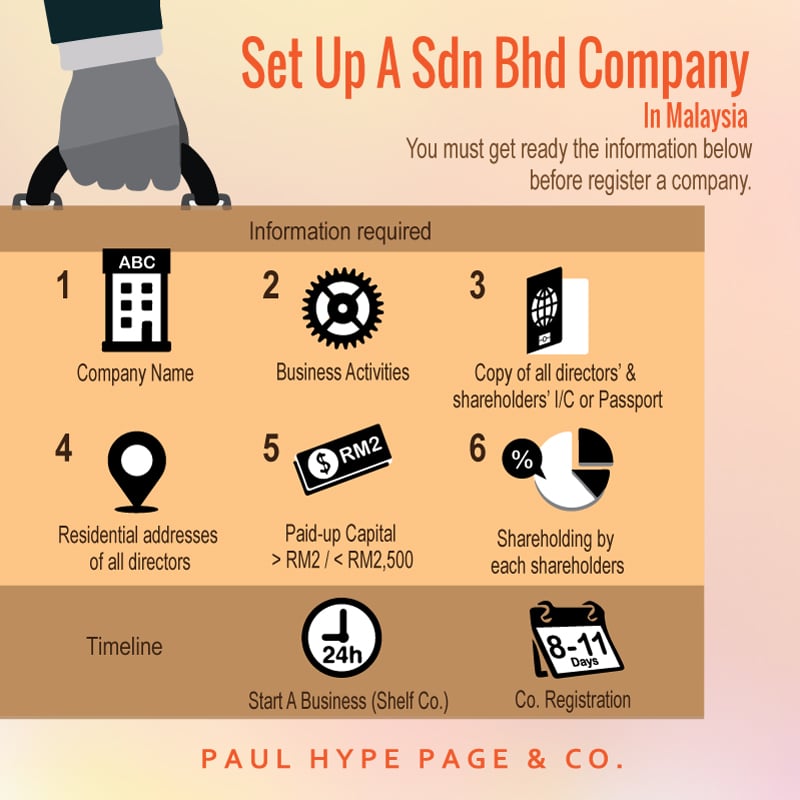 To register a Sdn Bhd company in Malaysia, the following are required: 
C

ompany name

 

Business activities

 

R

egistered office in Malaysia

D

irector 

who is at least 18 years

 old, not a convicted criminal

 during the last five years

, not bankrupt, and either resides in Malaysia or holds any of the usable work visas

S

hareholder

Corporate 

s

ecretary who must be a member of any of the prescribed professional bodies

, 

licensed by 

SSM

, 

or both

M

inimum paid-up capital of RM

2

Copy of all directors' 

and

 shareholders' Identification Card (IC) or passport

 
 Duration of Each Step of Sdn Bhd Company Registration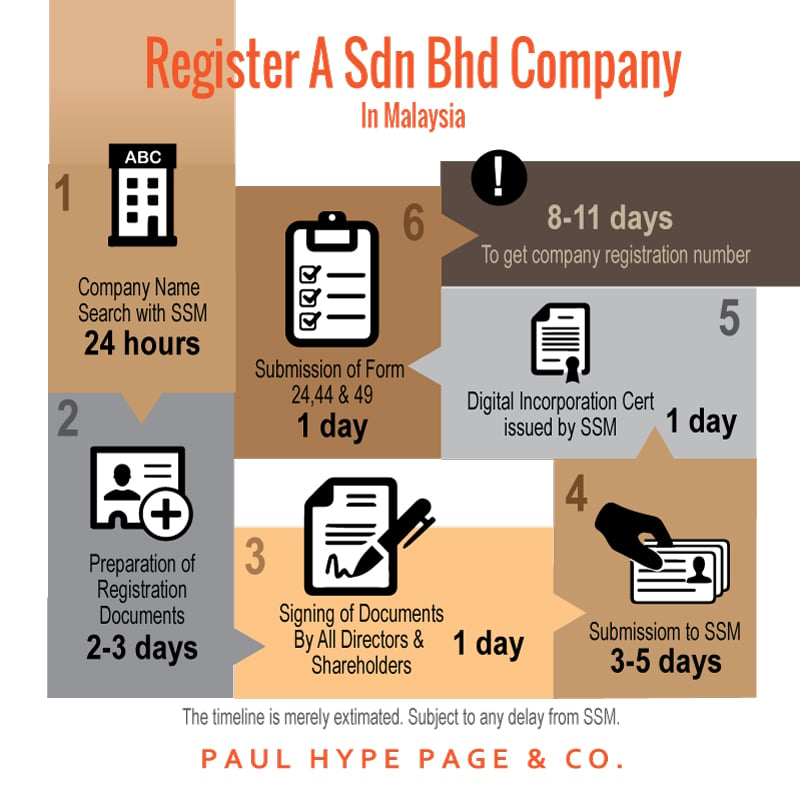 Those who choose to register a Sdn Bhd company in Malaysia can expect the following durations for each step of the process: 
 Company name search – 

w

ithin 24 hours

 

 Preparation of registration documents – 

w

ithin 2-3 days

Signing of documents by all directors and shareholders – 

w

ithin 1 day

 Submission of documents to 

SSM – 

w

ithin 3-5 days

 Digital incorporation certificate issued by

 SSM – 

w

ithin 1 day

 
These durations are estimates; in some instances, delays may occur if SSM needs more time to verify the incorporation documents provided. It is incumbent on the prospective company owner to ensure that all information submitted for incorporation purposes is accurate. 
(*Disclaimer – SSM shall not be liable for any misuse of information caused by the usage of any information from this website)
Company Secretarial Services
A company secretary is an important part of a business as it is the company secretary who will have to deal with regulations, policies, standards, code of ethics, and guidelines during the company registration process. At Paul Hype Page & Co, our company secretarial services will ensure that our experienced corporate specialists will not only supply you with our best practices, but also provide you with our full range of services including advisory services, statutory services, preparation of resolutions, and others. All of our company secretarial services follow the regulations stipulated in the Malaysia Companies Act 2016. 
Why You Should Choose Paul Hype Page & Co
At Paul Hype Page & Co, our expertise truly stands out. We will offer you the full range of services to help you find your business success in Malaysia. As a leading corporate service provider, we ensure that your company incorporation in Malaysia is completed smoothly while fulfilling all the existing compliance laws and regulations. 
Setting Up a Sdn Bhd Company in Malaysia FAQs
How has Malaysia's ranking with regard to ease of doing business changed over the years?
Ever since the introduction of the Ease of Doing Business rankings in 2006, Malaysia's ranking has not changed much. In almost every year of the rankings, Malaysia has been ranked between 12th and 25th. The exception was in 2014, when its ranking peaked at sixth. 
In which situations is starting a sole proprietorship or partnership preferable to starting a Sdn Bhd company?
There are certain instances in which it is more advisable for a prospective business owner to start a sole proprietorship or partnership. The primary examples of such scenarios involve entrepreneurs who are planning to start a small or medium-sized enterprise (SME) as a start-up. However, this may only be done by locals; foreigners may set up neither a sole proprietorship nor a partnership. 
What names may not be chosen for a company based in Malaysia?
In Malaysia, certain names may not be used for the purposes of naming a company. These names include names related to royalty; names related to state, federal, or foreign governments or international organizations; names related to political parties, associations, or trade unions; misleading, blasphemous, or offensive names; names which are translations of or too similar to an existing registered company name; or names including certain banned words. 
Paul Hype Page & Co – SSM service provider and Asean Chartered Accountant.
Paul Hype Page & Co. have 3 physical offices in Singapore, Malaysia and Indonesia
Our Firm Goal is to assist Foreigner and Foreign Companies to set up business in Asean.
How we can help you:
We will call you back, please click below link and make appointment with our Sales consultant:
Step 1- Listen to your Business plan and Relocation needs.
Step 2- Analysis your Malaysia Tax Planning
Step 3- Recommend the most suited type of Company Incorporation, Open Bank account and Work Visa
Step 4- Arrange for your Spouse and Children Visa
Step 5- Assist as your company to hire staffs and handle all HR matters
Step 6- Every financial year end, we assist you with your yearly SSM Finanical and Tax Compliance
Step 7- Assist you to expand business to Malaysia, Indonesia, Vietnam and Thailand.
Get in Touch with Us Today.
Paul Hype Page
Website: www.paulhypepage.my
Which Stage of Business Are You At?
HELIOCENTRIC PTE. LTD.
— Nayagam Zora
Another Successful Company setup with Employment pass.

Happy Client, Zora, HELIOCENTRIC 
Zora started her career in media production …