Procedure for setting up a Business in Malaysia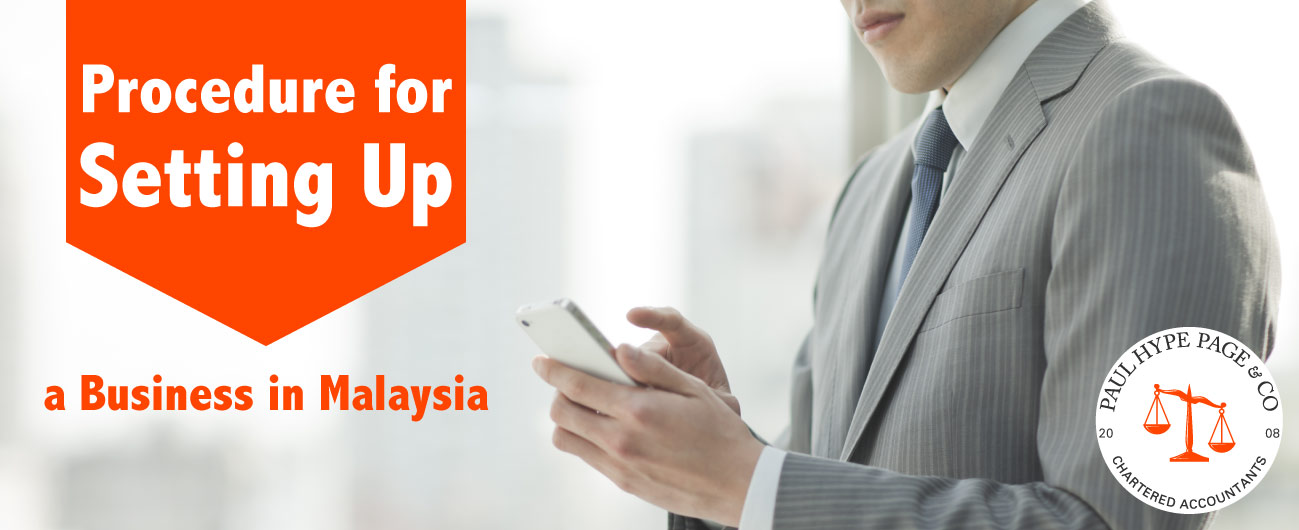 Establishing a limited company in Malaysia requires several documents and compliance with the rules and regulations as established by the Suruhanjaya Syarikat Malaysia (Companies Commission of Malaysia).
With Paul Hype Page & Co, company establishment and start up in Malaysia is quick, hassle free and economical. Our qualified and professional consultants perform a due diligence background check on your profile and help you incorporate your business in Malaysia within the shortest timeframe.
Here is how a synergy with our company helps and provides you procedure setting up a business in Malaysia:
Discuss and define the scope of your business activities. Foreigners are prohibited from carrying out certain types of businesses in Malaysia. We help you select the right business.
Name your directors and shareholders and propose as many names for your business. We'll confirm the availability of the names.
After the company name is selected, we help you prepare all documents necessary for registration by the Companies Commission of Malaysia. We provide background checks and verification on your proposed business name, paid up capital, sources of finance, list of directors and shareholders.
Your incorporation documents are then dispatched for approval by the Commissioner Companies of Malaysia. Since the documents are verified and recommended by a leading firm of accountants, the registration process is quick.
Once your incorporation documents are approved, the Commission shall issue a Registration Certificate which will be remitted to you.
In addition to exercising due diligence and performing background checks prior to incorporation, Paul Hype Page & Co. offers the printing of memorandum and articles of association, company's common seal, share certificates and any changes to the memorandum and/or articles of association. Our incorporation form is simple, straightforward and easy to fill. Click here to find out more.
Additional Requirements
In addition to the documents necessary for incorporation, the SSM states other regulations that must be complied with by all Sdn Bhd Companies. These requirements include:
Directorship Office Criteria
The number of directors for any company shall not be less than 2. The directors shall be minimum 18 years of age, shall not be bankrupt and should not have been imprisoned in any of the 5 years preceding the filing of incorporation documents.
Accounts and Audit
The Company shall prepare annual every year which shall be approved by licensed auditors in Malaysia. The audited accounts shall be filed with the SSM with the Annual Returns.