There are several factors which need to be considered before incorporating a Malaysia company. Paul Hype Page can help you make the transition smooth and hassle-free.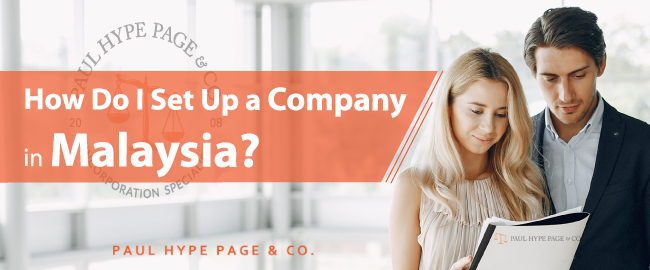 Before incorporating a company in Malaysia, there are several factors you need to consider. Among them are:
What sort of business you plan to start?

 

Is your business meeting a demand?

 

Have you prepared a detailed enough business plan?

 

What business entity would be the best fit for you? 

 

What licenses and permits do you need?

 

Have you prepared sufficient funds to start a business?

 
Malaysia has several business entity options to choose from. However, the most recommended options for foreigners would be either Sendirian Berhad (Sdn Bhd) company or Private Limited Companies.  
Paul Hype Page's experience and expertise can make your Malaysia company incorporation process a smooth journey. To begin the process and open a company in Malaysia, you will start by providing us with the necessary information. Provide us with your proposed company name, primary business activities, copy of all directors & shareholders I/C or passport, latest residential addresses of all directors with proof of address, paid-up capital information and the shareholding percentage of each shareholder. 
Company Name Availability
The next step is checking your company name availability. This is referred to as the company name search process. If successful, your company name will be reserved upon request once payment has been received. The Companies Commission of Malaysia (SSM) will give the final approval. Once this is done, we will assist you in preparing the full set of registration documents to be signed. The documents will then be submitted to SSM for processing.  
You will then await the Notification of Incorporation to be issued by SSM. Company incorporation with the SSM must be done through a certified company secretary. As one of the leading incorporation services provider in Malaysia, Paul Hype Page can help you register your business with SSM.  
Once incorporated, you will be issued with a company number. Your company name and number must appear on your company seal. It must also be present in business letters, invoices, account statements, publications, official notices, cheques, official letters and notices.  
Who Are SSM Malaysia?
The SSM is the statutory body which governs and regulates businesses and companies in Malaysia. It was formed when the Registrar of Companies (ROC) and Registrar of Businesses (ROB) merged. SSM has been operating in Malaysia since 2002. All companies must go through SSM to be incorporated in Malaysia. It abides by its vision to be a top tier corporate registry and regulatory authority in the country. 
SSM is the leading authority when it comes to the improvement of corporate governance in Malaysia. It also ensures businesses comply with the registration requirements through comprehensive monitoring of activities and enforcement. SSM is also responsible for administering and enforcing the following legislations in Malaysia: 
Companies Commission of Malaysia Act 2001

 

Trust Companies Act 1949 (Act 100)

 

Limited Liability Partnerships Act 2012

 

Companies Act 2016

 

Registration of Businesses Act 1956

 

Interest Schemes Act 2016

 

Subsidiary legislations made under the Acts mentioned above, including:

 
Interest Scheme Regulations 2017

 

Companies Regulations 2017

 

Limited Liability Partnership Regulations 2012

 

Registration of Business Rules 1957

 

Companies Commission of Malaysia (Licensing of Secretaries) Regulations 2017
Paul Hype Page & Co – SSM service provider and Asean Chartered Accountant.
Paul Hype Page & Co. have 3 physical offices in Singapore, Malaysia and Indonesia
Our Firm Goal is to assist Foreigner and Foreign Companies to set up business in Asean.
How we can help you:
Step 1- Listen to your Business plan and Relocation needs.
Step 2- Analysis your Malaysia Tax Planning
Step 3- Recommend the most suited type of Company Incorporation, Open Bank account and Work Visa
Step 4- Arrange for your Spouse and Children Visa
Step 5- Assist as your company to hire staffs and handle all HR matters
Step 6- Every financial year end, we assist you with your yearly SSM Finanical and Tax Compliance
Step 7- Assist you to expand business to Malaysia, Indonesia, Vietnam and Thailand.
Get in Touch with Us Today.
Paul Hype Page
Website: www.paulhypepage.my