Based on the type of venture, the paid up capital and the work permit application, there are 3 major types of companies which foreigners can set up in Malaysia.

Registration
Registration of businesses in Malaysia must be done via the Companies Commission of Malaysia (SSM), which is also known as Suruhanjaya Syarikat Malaysia. There are three primary types of companies which foreigners can set up in Malaysia. Each has different business activities, paid-up capital requirements, and work permit criteria. These companies are the 100% foreign-owned company, joint venture with a Malaysian partner, and private company limited by shares.
100% Foreign-Owned Company
Such companies are entirely owned and controlled by foreign directors. The business concept should be unique, beneficial to the Malaysian economy and employment rate, and has to be approved under the 100% foreign-owned structure principles. The minimum paid-up capital requirement is RM1,000 except in the cases of businesses in the import, export, restaurant and trading industries; such businesses require more capital.
Joint Venture with Malaysian Partner
In such companies, a minimum of 50% control over the venture is maintained by foreign directors. The other half is owned by Malaysian investors and trading partners. A minimum authorized capital of RM1,000 is required. Businesses involved in certain business activities such as retail, wholesale, and trading require both a WRT License and a higher minimum authorized capital.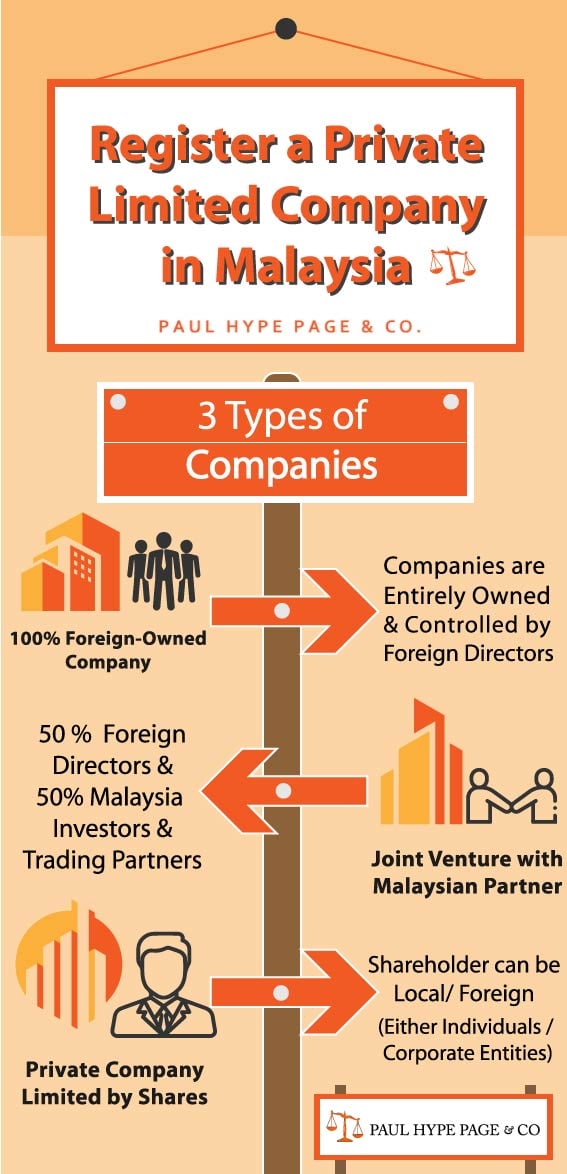 Private Company Limited by Shares
Such companies are the most common of the three listed in this article. Owners of such companies benefit from limited liability; thus, their personal assets are not at risk. Shareholders of such companies may either be local or foreign; they may also either be corporate entities or individuals.
To find out more about setting up a Sdn Bhd company, contact us at Paul Hype Page & Co. Company establishment and setup in Malaysia will never be easier because our qualified and professional consultants will assist in the incorporation of your business and ensure that it is completed in the shortest amount of time with the best possible results.
Register a Private Limited Company in Malaysia FAQs
Why are Private Companies Limited by Shares Relatively common in Malaysia?
Tiwi
2020-04-27T14:16:39+08:00
The primary advantage of owning a private company limited by shares lies in the fact that it confers its owner with limited liability. Thus, those who are more risk-averse tend to start such companies. This benefit causes many to be interested in setting up these companies. 
What is a WRT License?
Tiwi
2020-04-27T14:16:05+08:00
A WRT License applies to companies owned by foreign non-residents in Malaysia. It regulates the participation of foreigners in the country's distributive trade sector. It also promotes fair and balanced development across businesses in Malaysia. 
Why does each business type have different Paid-up Capital Requirements?
Tiwi
2020-04-27T14:11:51+08:00
Each business type which can be started by foreigners living in Malaysia will have different business activities. These different business activities will naturally require differing amounts of money to be spent. Therefore, the paid-up capital requirements are different to account for such discrepancies.