Responsibility of a Company Secretary in Malaysia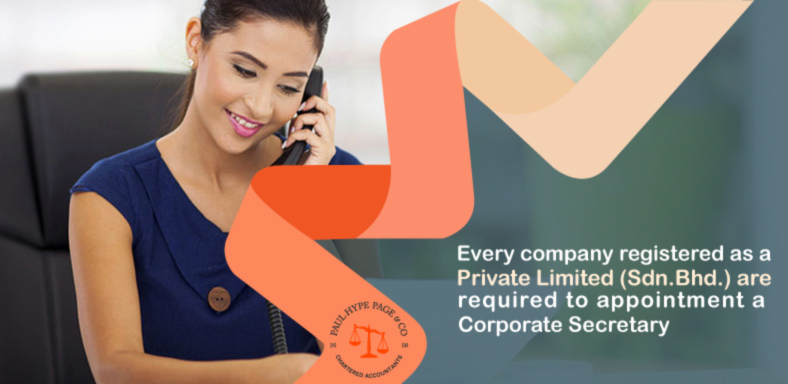 Company secretaries play crucial roles within any company in Malaysia. Company secretaries are usually assigned important responsibilities and much power because they are indispensable to the company. Company secretaries are also expected to be ethical at all times because of the magnitude of the duties they undertake.
Information About Company Secretaries in Malaysia
Every company registered as a private limited (Sdn Bhd) company in Malaysia is required to appoint a company secretary, who is also known as a corporate secretary). The company secretary of a Malaysian company is required to be a natural person as well as a resident of Malaysia. The roles and duties of a company secretary in Malaysia are defined by the Malaysian Association of Company Secretaries (MACS), with whom licenses are governed and regulated by the Companies Commission of Malaysia (SSM). All company secretaries in Malaysia must be licensed by the SSM.
Company secretaries are expected to portray professionalism and competence at all times. They also assist in the process of company formation and registration. Those who have decided to register a company in Malaysia must engage the services of a company secretary to help them complete the company registration process. Company secretaries are also expected to keep the directors adequately informed about the developments of the company. In addition, they are also expected to maintain an effective internal control system that ensures proper maintenance of details related to statutory registration and the company's record books.
The company secretary is also to ensure that all laws and regulations as well as all national laws governing the company are followed. Company secretaries also ought to attend all board meetings. If such is not possible, the company secretary is to find a representative to attend on their behalf. The company secretary or the company secretary's representative must not be left out of the company meeting because if such were to be the case, it would jeopardize the duties and responsibilities of the company secretary with regard to the preparation of resolutions and meeting minutes. A company secretary is accountable for all the most important operations of a company. Therefore, the company secretary should always report any problems which may be noticed.
Responsibility of a Company Secretary in Malaysia FAQs
What is the Malaysian Association of Company Secretaries (MACS)?
MACS is the primary independent body which oversees the affairs of all of Malaysia's company secretaries. It was established and registered in 1989. Those who are fellows or full-grade members of MACS may serve as company secretaries in Malaysia. 
Why must company secretaries attend board meetings?
It is imperative that a company secretary be properly informed of everything that takes place in a company. Much information in this regard is stated during a board meeting. Therefore, it is necessary for a company secretary to attend board meetings. 
How well are company secretaries in Malaysia paid?
In Malaysia, the average company secretary earns RM47,577 every year. However, company secretaries in Malaysia who have at least 10 years of experience are usually paid over RM70,000 every year. 
Paul Hype Page & Co – SSM service provider and Asean Chartered Accountant.
Paul Hype Page & Co. have 3 physical offices in Singapore, Malaysia and Indonesia
Our Firm Goal is to assist Foreigner and Foreign Companies to set up business in Asean.
How we can help you:
We will call you back, please click below link and make appointment with our Sales consultant:
Step 1- Listen to your Business plan and Relocation needs.
Step 2- Analysis your Malaysia Tax Planning
Step 3- Recommend the most suited type of Company Incorporation, Open Bank account and Work Visa
Step 4- Arrange for your Spouse and Children Visa
Step 5- Assist as your company to hire staffs and handle all HR matters
Step 6- Every financial year end, we assist you with your yearly SSM Finanical and Tax Compliance
Step 7- Assist you to expand business to Malaysia, Indonesia, Vietnam and Thailand.
Get in Touch with Us Today.
Paul Hype Page
Website: www.paulhypepage.my
Which Stage of Business Are You At?
HELIOCENTRIC PTE. LTD.
— Nayagam Zora
Another Successful Company setup with Employment pass.

Happy Client, Zora, HELIOCENTRIC 
Zora started her career in media production …