Setting Up a Sdn Bhd Company in Malaysia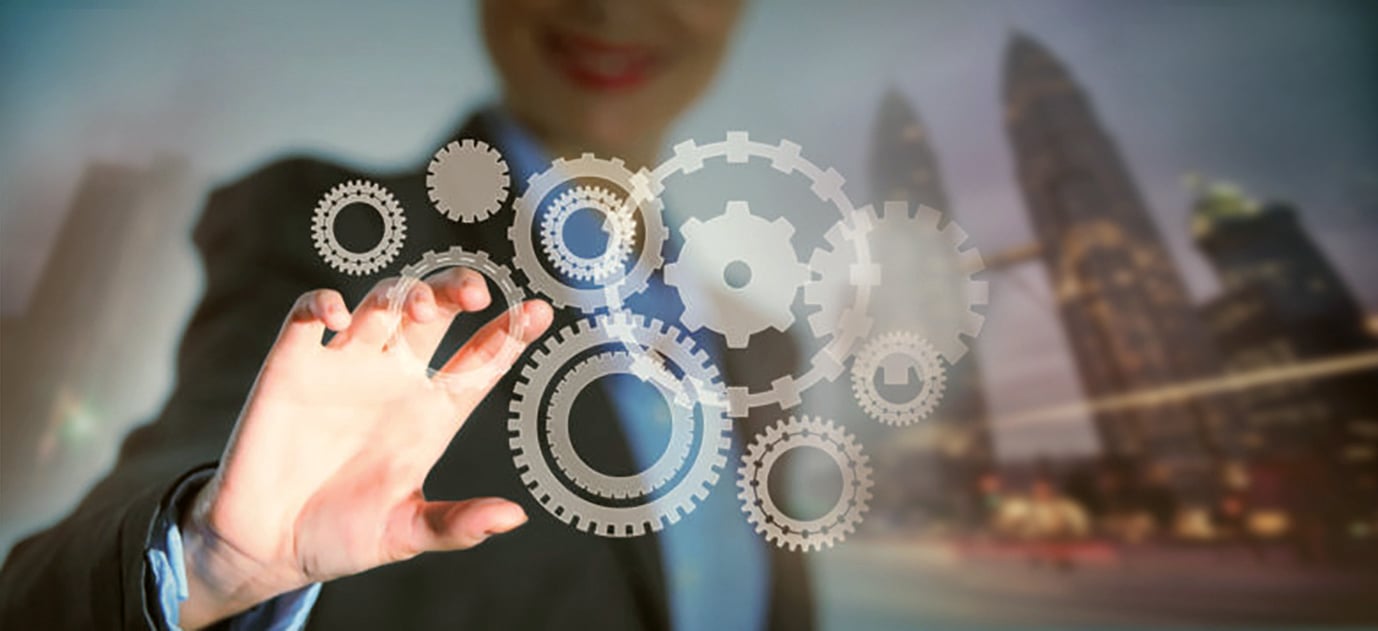 Setting up a company in Malaysia using SDN BHD (Sendirian Berhad) may be the best choice. There are major benefits of using this structure which no other structure offers.
The liability is limited. An entrepreneur's personal wealth is protected if the business encounters a loss or if the business fails.
Income tax risk exposure is low. SDN BHD tax planning is better as the company is consider as a separate legal entity. Tax saving up to 20% compared to personal income tax.
The Business Continuity will never stop. A company using SDN BHD will never expire. Getting a loan is also much easier as a SDN BHD. It all depends on company's cash flow, strategy and business prospects. Accounts of SDN BHD Company are deem as more reliable and trustworthy.
Information required for setting up a Malaysian Sdn Bhd company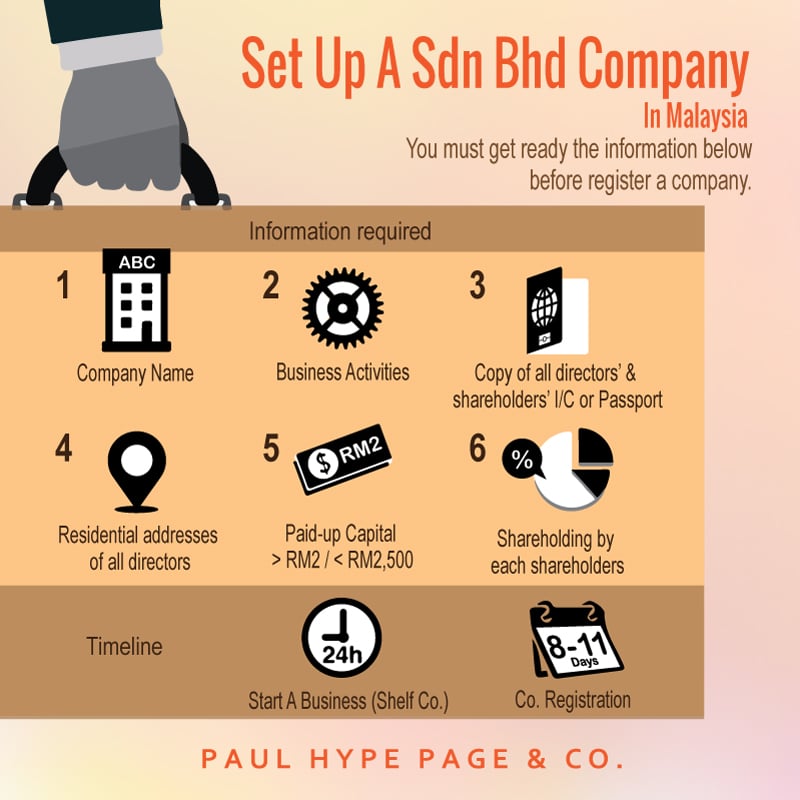 Information required to register a company in Malaysia
1) Company Name
2) Business Activities
3) Copy of all directors' & shareholders' I/C or Passport
4) Residential addresses of all directors
5) Paid-up capital > RM2 / <RM2,500
6) Shareholding by each shareholders
Malaysian New Company Registration Timeline: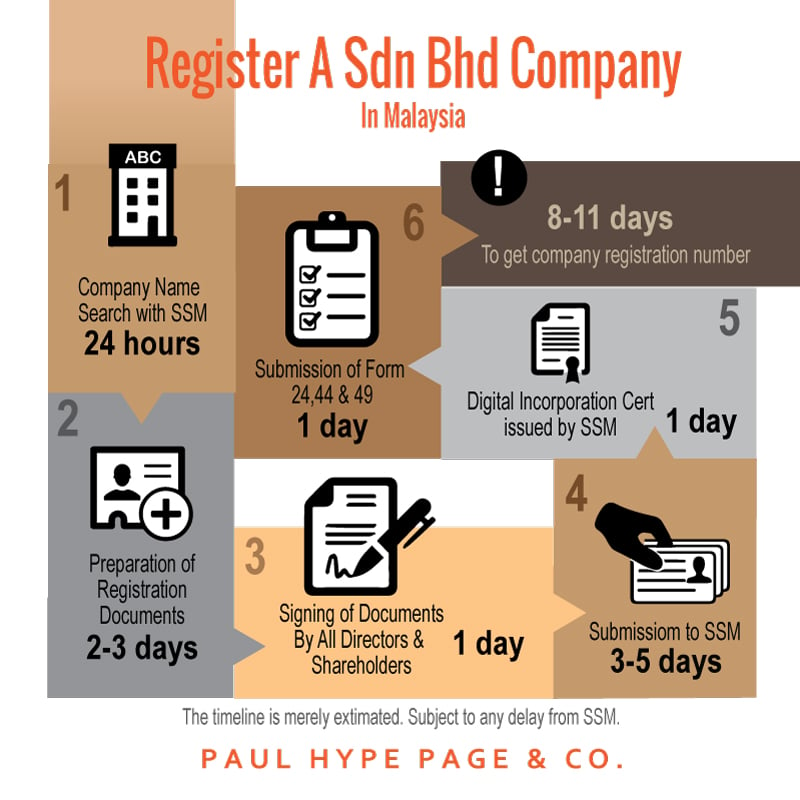 Timeline to setup a company
1) Company Name Search with SSM (24 hours)
2) Preparation of Registration Document (2-3 Days)
3) Signing of Documents By All Directors & Shareholders (1 Day) 4) Submission to SSM (3-5 Days)
5) Digital Incorporation Cert issued by SSM (1 Day)
6) Submission of Form 24,44 & 49 (1 Day) ! 8-11 days To get company registration number
Let Paul Hype Page Corporate Secretary assist you to set up your SDN BHD today.
Note: The above is an estimated timeline based on PHP's working experiences, it is however subjected to SSM and SSM's MyCoID online system.
Company Secretarial Services
Companies registered in Malaysia usually have to deal with a good number of regulations, policies, standards, guidelines and code of ethics. Paul Hype Page's Company Secretarial Services will assure you that our experienced corporate specialists will not only consult you with best practices of company ethics but will be providing you with our full company secretarial services such as co-operate advisory, statutory, preparation of resolutions and so forth. Company Secretarial services are governed by Malaysia's Company Act 1965.
Conclusion
If you are looking at setting up your own business in Malaysia, the best option for you would be to use the SDN BHD (Sendirian Berhad) structure. The benefits of using this structure outweigh all of the other structure benefit advantages, with only two minor drawbacks.
Steps to company incorporation in Malaysia is easy. To get your kick start, engage Paul Hype Page Company Secretarial Services to register your company in Malaysia today!
By Eric Eio
Managing Partner of Paul Hype Page & Co.
Eric was awarded an ACCA graduate in 2000 and also graduated from University of Sydney with a Bachelor degree in Computer Science & Accounting. Since graduation, he had worked in Big 4 as an auditor , including a one year overseas stint with Ernst & Young, Shanghai in 2005. He left his last appointment as an Audit Managerial position with PricewaterhouseCoopers, Singapore in 2008 before setting up his own Certified Public Accountant Practice – Paul Hype Page & Co. 
Which Stage of Business Are You At?
HELIOCENTRIC PTE. LTD.
— Nayagam Zora
Another Successful Company setup with Employment pass.

Happy Client, Zora, HELIOCENTRIC 
Zora started her career in media production …